PC442
Luojia Ping Self-Defensive Counterattack Against Vietnam Memorial Medal
(phonetic transcription)
date of issue - 1980
Authority:
Yunnan Independent Division
Design:
star breast badge, golden aluminum, ? mm across, with suspension
Obverse:
five-pointed gold star with a multi-ray point between each arm, with in the center a light blue field with below mountains and above a red Chinese People's Liberation Army flag, surrounded by gold ring of rice sheaves with below a rifle;
Reverse:
plain ? ;
Suspension:
?
Level:
☆
In October 1980, the Yunnan Military District Frontline Headquarters decided to initiate a counterattack against the Vietnamese Army in advance. They concentrated their excellent military strength and firepower and destroyed the invaders of the mountain range of Luojia Ping in one blow. After the battle, the Independent Division issued the Self-Defensive Counterattack Memorial Medal. The shape and design of this medal set the tone for the subsequent medals issued over the next 10 years of the Chinese-Vietnam border battles.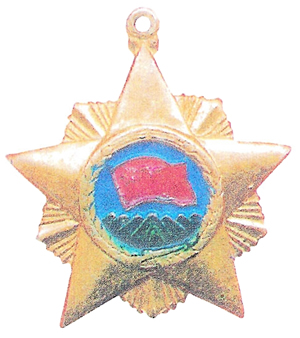 Luojia Ping Self-Defensive Counterattack Against Vietnam Memorial Medal