PC444
Beijing Military District Laoshan Battle Memorial Medal
< (phonetic transcription)
date of issue - November 1986 to June 1988
Authority:
Beijing Military District
Design:
star breast badge, golden aluminum, ? mm across, with suspension
Obverse:
five-pointed gold star with a multi-ray point between each arm, with in the center a red field with a soldier holding a rifle facing left and below mountains, surrounded by a gold ring of rice sheaves;
Reverse:
plain ? ;
Suspension:
?
Level:
☆
To commemorate the battle victory of certain units of the Beijing Military District at the Laoshan border region, the Beijing Military District issued the Laoshan Battle Memorial Medal.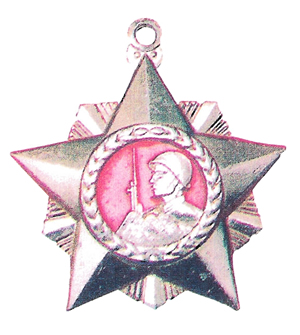 Beijing Military District Laoshan Battle Memorial Medal