PC446
Shaanxi Triumphant Return Memorial Medal
(phonetic transcription)
date of issue - May 1987
Authority:
People's Government of Shaanxi Provincial
Design:
round breast badge, golden aluminum, ? mm across, with suspension
Obverse:
in the center a red field with mountains, surrounded by a cogwheel surrounded by a ring of sixteen rayed points;
Reverse:
plain ? ;
Suspension:
?
Level:
☆
During the self-defensive battle against Vietnam to defend the border territory, Shaanxi soldiers won the most distinctions.
In May 1987, the Shaaxi unit finished their round of battle and returned to their home post. The Shaanxi People's Government issued the Triumphant Return Memorial Medal to reward the chief officers of Lanzhou Military Troops who came from Shaanxi Province.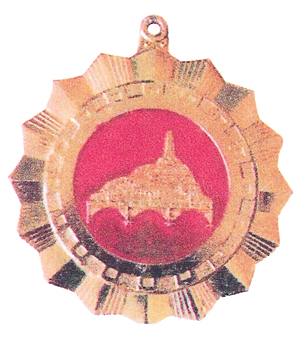 Shaanxi Triumphant Return Memorial Medal