PC449
Chengdu Military District Outstanding Artilleryman Medal of Distinction
(phonetic transcription)
date of issue - 1986
Authority:
Chengdu Military District
Design:
star breast badge, golden aluminum, ? mm across, with suspension
Obverse:
five-pointed gold star with a multi-ray point between each arm, with in the center an artillery piece and below a cogwheel, surrounded by a gold ring of rice sheaves;
Reverse:
plain ? ;
Suspension:
?
Level:
☆
From April, 1986 to April, 1987, Chinese troops in total initiated 13 crucial bombardments and 8 counter-battery fires against the Vietnamese troops. These artillery fires supported the infantry attacks as well as the survey and ambush battles.
In order to reward the personal with outstanding achievements in the artillery troops, which had won battle distinction during the defensive battle against Vietnam, Chengdu Military District issued this "Outstanding Artilleryman Medal of Distinction".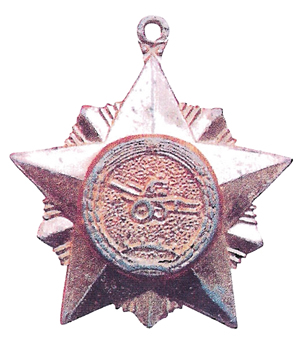 Chengdu Military District Outstanding Artilleryman Medal of Distinction