PC450
Long Live the Soldiers Medal of Distinction
(phonetic transcription)
date of issue - 1986
Authority:
Hunan Province People's Government
Design:
round breast badge, golden aluminum, ? mm across
Obverse:
round disk with a center red field with above the inscription meaining Long Live the Soldiers and below mountains, surrounded by a gold ring of rice sheaves;
Reverse:
plain ? ;
Suspension:
?
Level:
☆
In the autumn of 1986, Hunan Province People's Government formed a group to reward the troops at the Laoshan battle, and issued this medal to the Hunan unit.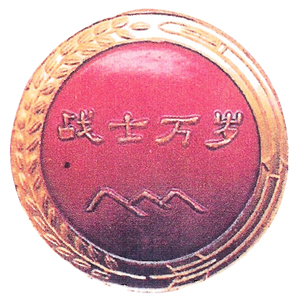 Long Live the Soldiers Medal of Distinction