PC455
Laoshan against Vietnam Field Troop Code Badge
(phonetic transcription)
date of issue - 1989
Authority:
Certain Group Army Certain Division Certain Regiment
Design:
breast badge, enameled aluminum, ? mm across
Obverse:
two white mountains with an inscription of the troop code, with below a red rectulangular crosshatched base;
Reverse:
plain ? ;
Suspension:
?
Level:
☆
The Laoshan area battlefield can be divided into three highland regions: Laoshan, Zheyinshan and Balihe Dongshan.
These highlands were the main battlefields of the Laoshan battle region, and were also the focus of conflict between the Vietnamese and Chinese troops. In order to enable uniform management and scientific arrangement, after a certain group army had taken over the battlefield, they issued battle troop badges. Different troops in different battlefields had different badges.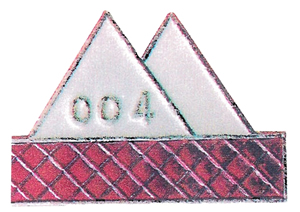 Laoshan against Vietnam Field Troop Code Badge