PA01
ORDER OF THE IMPERIAL REWARD OF DAINAM
Đại-Nam Ngự-Tử / Order de la Récompense Inpériale de L'Annam
five classes - ca. November 1884, but never sanctioned by the Emperor Hàm Nghi
For:
high merit
Design:
gold star, presumably gold, suspended from a cravet
a star of four popints, shallow curves from point to point, suspended from the center between two points, with a round precious stone in the center, and the inscription in Cinese characters "Đại-Nam Ngự-Tử"
Ribbon:
for all classes, a cravet in yellow and black, design unknown
While this award did not materialize, two years later the Order of the Dragon was founded. The design of this order reflected the four cardinal points around Vietnam, and the central precious stones of the various traditional levels of quality represented Heaven. The ribbon colors were the imperial yellow and the black of water.
1/1
Grand Cross
Design:
stone of color blue green
1/2
Grand Officer
Design:
stone of color yellow ochre
1/3
Commander
Design:
stone of color red
1/4
Officer
Design:
stone of color white
1/5
Knight
Design:
stone of color black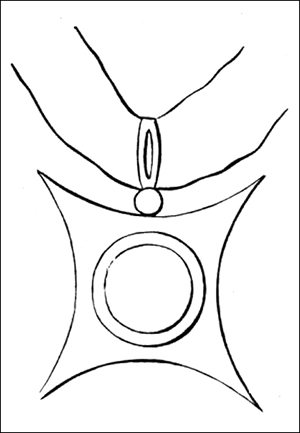 1 Order of the Imperial Reward of Dainam
(from PG Lepage "Trois Décorations Peu Connues (1882-1892)")