PA03
ORDER OF THE DRAGON OF ANNAM
Ðại-Nam Long-Tinh Huy-Chúóng / Ordre du Dragon de L'Annam
five classes – established March 14, 1886
For:
civil and military merit in the service of the Emperor and the Protectorate
Design:
Obverse:
on an eight pointed star of faceted rays, a blue oval medallion with four Chinese-style characters in seal script "Ðông-Khánh Hoàng-Ðế" (Emperor Ðông-Khánh) in gold, with decorative lines of flame, encircled with a red riband;
Reverse:
plain;
Suspension:
a Western crown, with above that a green dragon facing left with, usually, red on its head
Ribbon:
- as awarded from 1886 to 1916 for the military division: orange yellow 7mm, white 22mm, orange yellow 7mm
- as awarded from 1886 to 1916 for the civil division: orange yellow 7mm, light green 22mm, orange yellow 7mm
- as awarded from 1900 by the Emperor of Annam: yellow 7mm, red 22mm, yellow 7mm
- as awarded from 1900 by the President of France: orange yellow 7mm, light green 22mm, orange yellow 7mm
(For more complete information on this order, see "The Official The Imperial Order of the Dragon of Annam Website" at http://www.themedalhound.com/orderOfDragon/index.html)
3/1
Grand Cross (termed in Vietnamese for the military division Trạc-Di Long-Tinh, and for the civil division Khoi-Ky Long-Tinh) – sash and star
Design:
sash badge – as above 75mm or 85mm, with gold rays
star – round pointed and faceted rays, with the central medallion as above, but clutched by the claws of a green dragon with its head peering over the top of the medallion
Ribbon:
sash 101mm; as above in dimensions 17mm, 67mm, 17mm
service bar – 36mm, with rosette and gold wings
3/2
Grand Officer (military: Thủ-Huân Long Tihn; civilian: Chưóng-Hiênh Long-Tinh) – star, with at first a cravet, but later with a breast badge with rosette
Design:
star – as above with silver rays, with above variations
Ribbon:
service bar – with rosette and one gold and one silver wing
3/3
Commander (military: Sành-Năng Long-Tinh; civilian: Biêu-Đúc Long Tinh) – cravet
Design:
as above with gold rays, 60mm, 75mm (and other variations of size probably)
Ribbon:
service bar – with rosette and silver wings
3/4
Officer (military: Tưởng-Trung Long-Tinh; civilian: Minh-Nghĩa Long Tinh)
Design:
as above with gold rays, 45mm, 50mm, 53mm (and other variations)
Ribbon:
service bar – with rosette
3/5
Knight (military: Kyuyến-Cong Long-Tinh; civilian: Giá-Thiên Long Tinh)
Design:
as above with silver rays, 45mm, 50mm, 53mm (and other variations)
Ribbon:
service bar – without rosette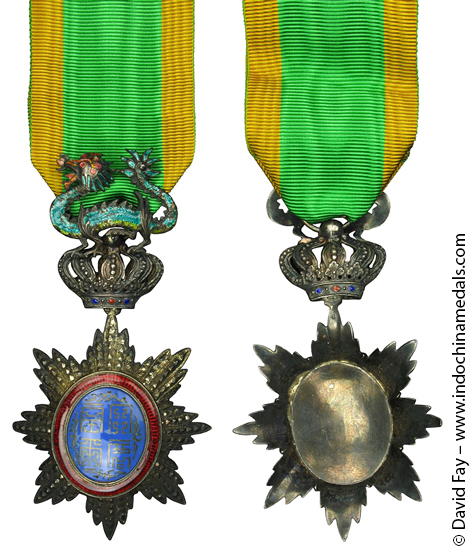 3/5 Order of the Dragon of Annam - Knight Class - ribbon as awarded by the President of France
3/V
Version
Design:
apparently, award during a period of the reign of Emperor Bảo Đại
Ribbon:
Obverse: as above but without enamel and the four seal script characters in center reading "Bảo-Đại Niên-Tại"
This order, also known as the Ordre du Dragon Vert, was awarded extensively over the years, and between the various French and Vietnamese manufacturers. For instance, on some the dragon is plumper and smaller and on others bigger faced and elongated. Other unofficial varieties include one in gilt without enamel, and one manufactured by Le Maitre without the dragon suspension. There is a version purportedly issued during Bảo Đại's period of abdication 1946-48 – perhaps a fantasy piece – which has the central medallion in black with one silver Chinese-style seal script character. The authenticity of the above Bảo Đại version also cannot be vouched for. The Dragon of Annam was made in various qualities of metal, including pure gold by A. Chobillon in 1933 for 1055 Francs.
One numismatic catalog mistakenly described the seal script characters on the central medallion, which form a patter of squiggly rectangular lines, as the map of the Imperial Palace !
Colonel Rullier has noted that the order was assumed on May 10, 1896, as a national order of France that could be awarded by the President on the recommendation of the Minister of Colonies. It also could continue to be awarded by the Emperor of Annam at his discretion. In order to avoid confusion as to whom had awarded this order it was decided in a decree of December 5, 190 to come into effect on May 1, 1900, that the ribbon henceforth when awarded by the President would be green with orange yellow edges, and when awarded by the Emperor would be white with orange yellow edges. These ribbons had hitherto been used respectively for the civil and military classes of the Annamese awards. (The military ribbon had not been recognized by the authorities in France.)  Since the white ribbon resembled that of the Royal Order of Cambodia, the Court of Hué decided to change the ribbon to one of red with yellow edges.
The emperor alone had the right, according to the regulations, to wear the Knight's badge along with the Grand Cross (following thus the European monarchial precedent).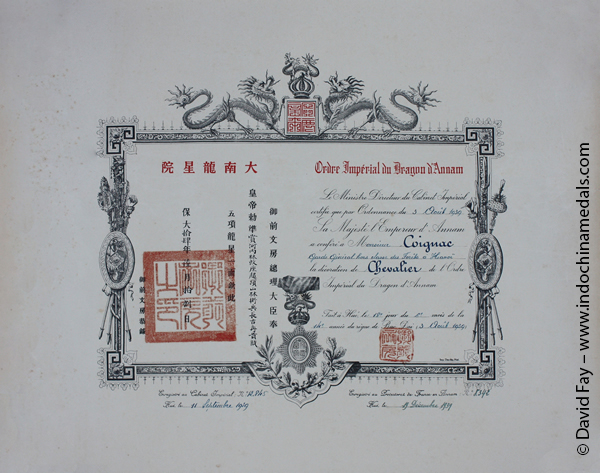 Order of the Dragon of Annam - Brevet - Knight Class (Chevalier Class)