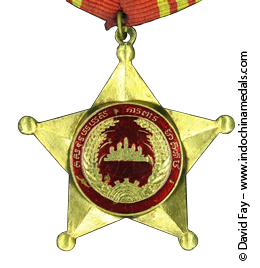 This part of the study of the orders and medals of Indochina lists and comments on the orders, decorations, and medals of the People's Republic of Kampuchea - the Cambodian government instituted by the The Socialist Republic of Vietnam after they invaded and occupied Cambodia to overthrow the repulsive and murderous Khmer Rouge.
Phnom Phen was liberated by the Vietnamese on January 7, 1979. These awards were mostly instituted in 1982 and become obsolete in 1993 after the formation of the current Kingdom of Cambodia.
This section is a brief reference only. The best reference for orders, decorations and medals from the People's Republic of Kampuchea is Cambodian Decorations of Honor by Geoffrey P. Oldham & Brett Delahunt available at http://www.milimem.com.
---
This study was initially carried out by John Sylvester Jr. We are thankful that he has let us take up this study from his original work, and continue to expand it with additional information as available.
In this study there are certainly errors and omissions. Any additional assistance, information, other examples, etc are highly appreciated. Please contact me at rdavemail-medals@yahoo.com.
| | | |
| --- | --- | --- |
| | | David Fay |
| | | rdavemail-medals@yahoo.com |