PRK8/9
THE FRIENDSHIP DECORATION and THE FRIENDSHIP MEDAL
single class and a medal – established 1982
For:
foreigners and expatriate associations who assisted Cambodia
Design:
gilt breast badge, 40mm across, with suspension ribbon
Obverse:
an eight pointed gold star, with five smooth rays constituting each point and one small one in each angle, the light blue central disk having a white pair of shaking hands below, a white dove above that, a gold five towered Angkor Wat above that, a sheaf of grain on either side, and a gold Khmer inscription on a red background above and below saying respectively "Decoration, Friendship.";
Reverse:
plain
Ribbon:
27mm; yellow 2mm, red 1mm, yellow 2mm, red 5mm, green 7mm red 5mm, yellow 2mm, red 1mm, yellow 2mm (with several variations); folded pentagonally
The badge of the medal is 36mm across, with the eight points of three equal rays, and a smaller disk with the Khmer inscription above "Medal" and below "Friendship" without a red background.
The decoration is common, the medal less so.
| | |
| --- | --- |
| PRK8 The Friendship Decoration | PRK9 The Friendship Medal |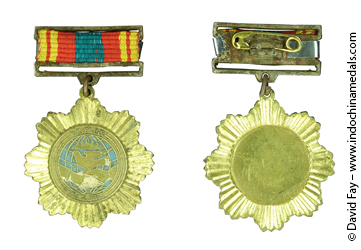 PRK9 The Friendship Medal with Ribbon Bar
(maybe this is just a concoction)
Various Ribbon weaves have been observed:
| | | |
| --- | --- | --- |
| large weave | medium weave | small weave |