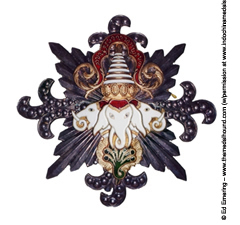 This part of the study of the orders and medals of Indochina lists and comments on the orders, decorations, and medals of the Kingdom of Laos - from 1909 until 1975.
With the overthrow of the Kingdom of Laos in 1975, these awards are no longer issued and now obsolete.
A complimentary website is also produced by Ed Emering at The Medalhound http://www.themedalhound.com/laos/index.html
---
In this study there are certainly errors and omissions. The earlier regimes in Indochina are destroyed. The records and memories that can be examined are mostly those abroad. In regard to some Lao awards mysteries remain.
It should be noted that the Cambodian, Lao, and Thai scripts are based on south Indian Sanskrit alphabets such as those of Pallava and East Calukya brought in by early Hindu immigrants. These handsome scripts differ some, but not much, from each other. Just as with other Asian writing systems, they are transliterated into roman script according to various systems, which can lead to confusion.
Any additional assistance, information, other examples, etc are highly appreciated. Please contact me at rdavemail-medals@yahoo.com.
| | | |
| --- | --- | --- |
| | | David Fay |
| | | rdavemail-medals@yahoo.com |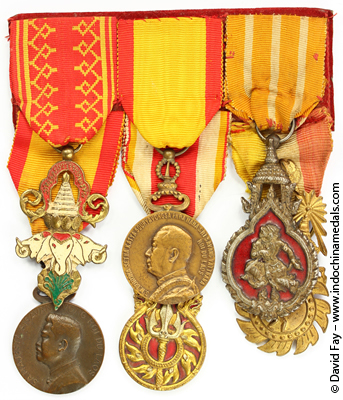 Mounted Group
Order of the Million Elephants and the White Parasol, Order of the Reign - Sri Savang Vatthana, Order of Civic Merit, Order of the Reign - Si Savang Vong King of Laos, Combat Veteran's Medal, Medal of Government Gratitude