LS10
ORDER OF FEMININE MERIT
Ordre du Mérite Féminin
(Itsariyaphon Sati Suphaphon)
one class - established ???
For:
meritorious deeds by women
Design:
round gold badge, 38mm across, with bow suspension ribbon
Obverse:
two gold feminine sitting figures (possibly being Rama and Sita from the Ramayana - in Lao, respectively Phra Lam and Nang Sida) on plain background, surrounded by a gold frieze of points and branched curlicues;
Reverse:
plain
Ribbon:
33mm; brick red 33mm, tied in a bow sometimes with an elaborate gold clip to the suspension ribbon
Two varieties have been seen, one flatter and all gold, the other more rounded with a silver background to the design. They both appear French made.
This order is uncommon.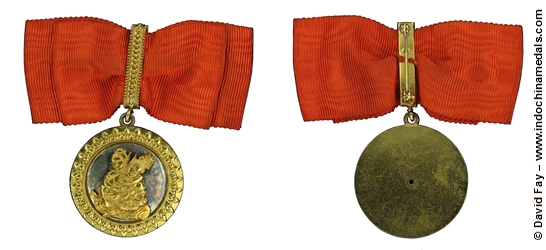 variation with silver background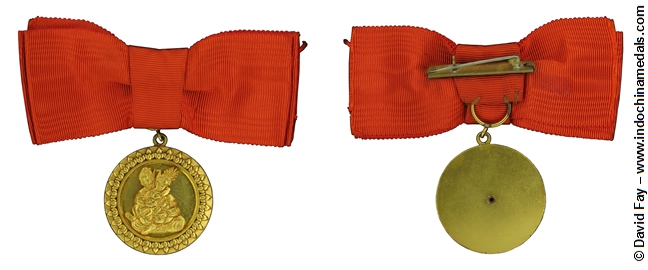 variation with gold background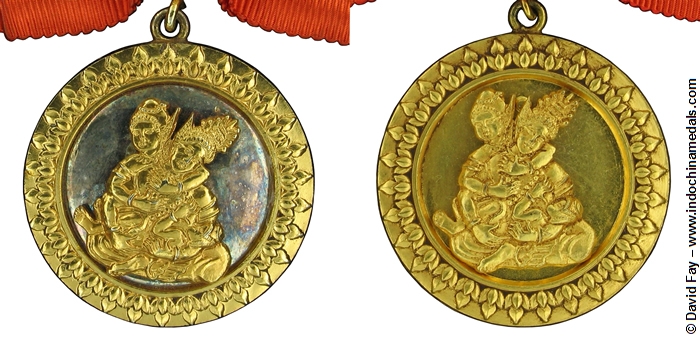 | | |
| --- | --- |
| silver background variety | gold background variety |