LS9
MEDAL OF GOVERNMENT GRATITUDE (also called Order of the Revolution)
Médaille de la Reconnaissance du Gouvernement
one class – established January 27, 1962
For:
service in the 1960-61 "campaign"
Design:
gold breast badge, 34mm across, with device on suspension ribbon
Obverse:
figure of walking soldier holding a bayoneted rifle, surrounded by knobbed circle, and, outside of that, the protruding blades of a chaka fighting disk, and above the Royal Crown with pointed rays surrounding the small knob at the top and the unalom symbol below;
Reverse:
a circular inscription 1960-61 at the bottom half and Lao script at the top and in the middle
Ribbon:
36mm; red 12mm, white 12mm, yellow 12mm; local made
Device:
on both the suspension ribbon and the service bar, a small trident and chaka in gold
This medal was for the rightist forces in the 1960-61 "campaign" of civil war for political ascendancy between general Phoumi Nosavan's Royal forces and General Kong Le's Neutralists and the allied Pathet Lao. The medal was also reportedly given with finger rings in the grades of gold, silver, and bronze.
Two varieties are known, both clearly manufactured in Laos or neighboring Thailand. One has a relatively upright soldier on the front and an impressed inscription on the reverse. The other has a soldier on the front who looks as if he is walking uphill and a raised inscription on the reverse.
This medal is uncommon.
| | |
| --- | --- |
| 9 | 9 variety (Sylvester) |
Detail Comparison
| | |
| --- | --- |
| soldier upright variety | soldier walking uphill variety |
Ribbon Device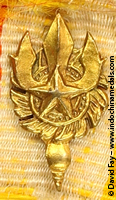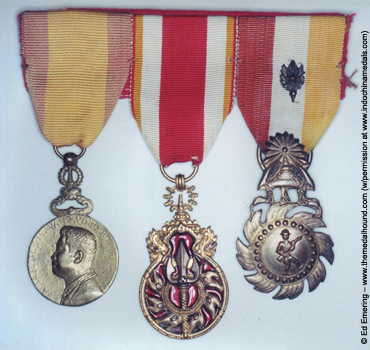 Mounted Group (Sylvester)
Order of the Reign, Combat Veteran's Medal, Medal of Government Gratitude