LS8
COMBAT VETERAN'S MEDAL
Médaille des Anciens Combattants
(Lian Tra Makhom Kao)
one class – established April 24, 1957
For:
service during hostilities
Design:
breast badge, 31mm across, with suspension ribbon
Obverse:
Royal Lao Army device of trident with silver blades and gold handle on gold weapon discus (Chaka or chuckram – a kind of lethal frisbee), against background of red enamel, with gold edges that lead up to Royal Crown with halo at top and visage of mythological lions at either side;
Reverse:
Royal Lao arms of three headed elephant etc. with inscription on right MEDAILLE DU COMBATTANT and on left in Lao script (Lian Itsariyaphon Makhom)
Ribbon:
36mm; red 1mm, yellow 2mm, white 7mm, red 16mm, white 7mm, yellow 2mm, red 1mm
There is an apparently local made variety which appears cast, with a little bigger rim (33mm), and a white painted trident.
This medal is relatively common.
| | |
| --- | --- |
| 8 French Made | 8 Laos Made (ex-Sylvester) |
Details
| | |
| --- | --- |
| | |
| Obverse Comparison - French / Lao | Reverse Comparison - French / Lao |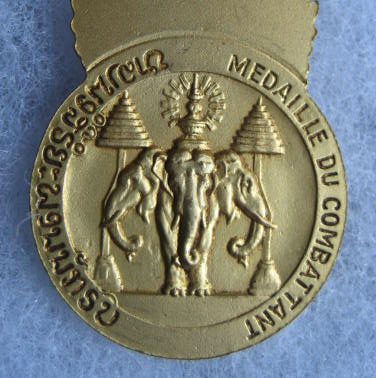 A Fine French made example


Miniature Detail

According to Souyris-Rolland ("Guide des Ordres et Décoration Militaires 1814-1963"):

This medal is known as the "Médaille du Combattant du Laos". It was created in 1948 by King of Laos Sisivang Vong for individual courageous military acts. It was the equivalent to the French "Croix de Guerre", including stars and palms to place on the ribbon according the citations. Many French officiers and nco's who were advisors to the Laotian army received this medal".

If anyone has further information about this, or examples with stars or palms, please me know.

Example with Star Device on Ribbon