LS13
FRANCO-LAOTIAN RESISTANCE MEDAL
Médaille de la Résistance Franco-Laotienne
one class – established April 25, 1949 by Ordinance 57
For:
Laotians and Frenchmen who participated in the struggle against the Japanese during WW2
Design:
bronze breast badge, 31mm across, with suspension ribbon
Obverse:
in the center a three headed elephant and seven tiered parasol above, with curlicues and a Cross of Lorraine on either side, and around the edge, at top in small letters the inscription RESISTANCE FRANCO LAOTIENNE 10 MARS 1945 – 29 AOUT 1945 and at the bottom the Lao inscription meaning Resistance against the Enemy of Laos 10th March 1945 – 29th August 1945;
Reverse:
curled dragon with border of curlicues, and in the center a blank straight area for the engraving of the recipient's name
Ribbon:
36mm; red 8½mm, white 19mm, red 8½mm
This medal was for Lao and French who participated in the struggle against the Japanese occupiers during WW2 (and perhaps some who fought subsequently against the Lao Issara). It perhaps can be better described as an award of France rather than Laos.
This medal was limited to 400 numbered pieces. Some known Lao recipients include:
Nouphat Chounramany
Phagna Soukhaswasdi Khamsouk Keola
Toulia Lyfoung
Chanda Ounthouang
S.E. Phao Panya, Phagna Koumphon Seukluong Muongsai
Khammao Phounsavath
Ngon Sananikone
PanSisouphanthong
Souvannavong Outhong
S.E. Thao Liep Soumpholphakdy
Nhok Sengtianthr
Phou-Sourya Viraphan
Thongsavat Vongsavanthong
This medal was manufactured by the Paris Mint (La Monnaie de Paris).
This medal was not uncommon before, but has become expensive on the market.
| | |
| --- | --- |
| 13 Full Size | 13 Miniature |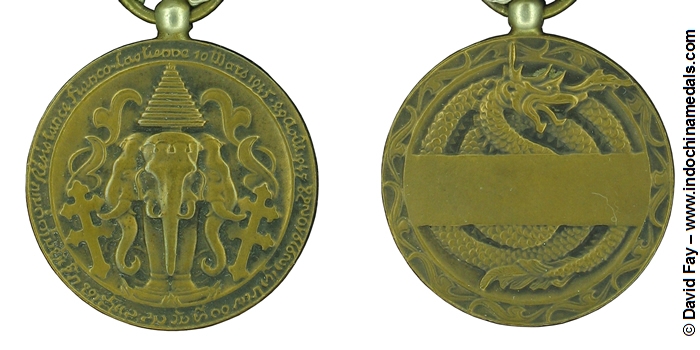 13 Detail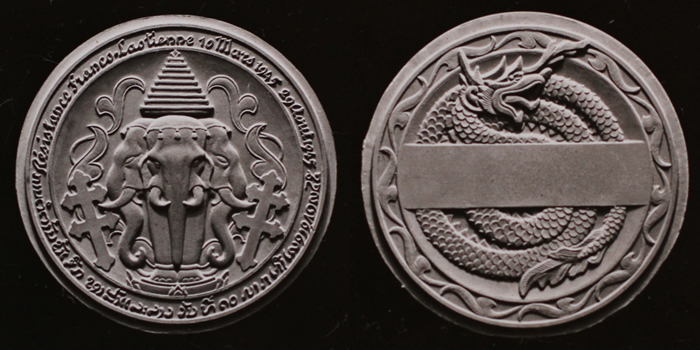 13 Model
Maker's hallmark edge – Monnaie de Paris