FI04
PUBLIC EDUCATION MEDAL
Médaille de l'Instruction publique en Indochine
two classes – established May 16, 1906, modified January 16, 1907
For:
teachers for merit
Design:
round breast badge, 32mm across, with suspension ribbon
Obverse:
wearing a Greek helmet with crest and wreath, the head of a woman symbolic of the Republic facing left, with the inscription around "REPUBLIQUE FRANÇAISE";
Reverse:
in the center an open design like an unfolded sheepskin, surrounded with a wreath, and the inscription above "INSTRUCTION PUBLIQUE" and below "INDOCHINE";
Suspension:
small folded knot of ribbon fixed to medal and leading to ring
Ribbon:
first:
violet 2½mm, yellow 5mm, violet 21mm, yellow 5mm, violet 2½mm;
second:
36mm width with alternate horizontal stripes of violet and yellow 3mm each
The medals also bear in very small letters on the obverse at the bottom "P. ROQUE INV" and reverse "F. MAGDELAINE". The medal is also known as the Medaille des Instituteurs - Medal for Primary School Teachers. Mr. J. Hass believes the ribbon may have been changed simply so that it would differ from that for the same medal for the Metropole.
4/1
First Class
Design:
as above in silver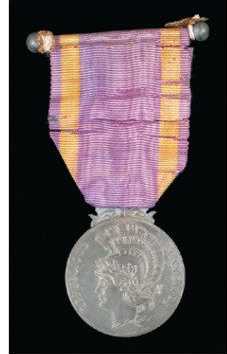 FI04/1 First Class - Silver
FJP Auction 2009 11 19 Lot 1000
4/2
Second Class
Design:
as above in bronze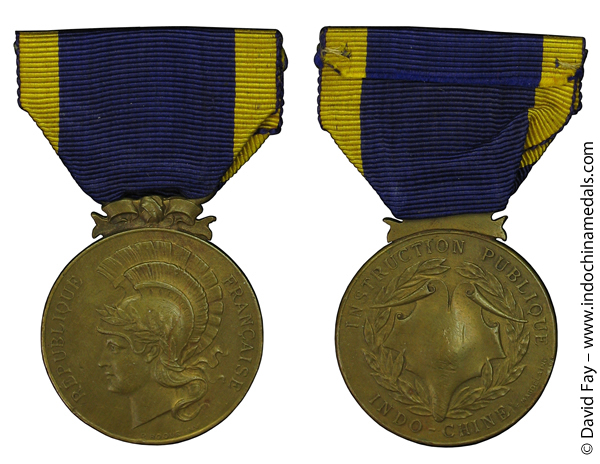 FI04/2 Second Class - Bronze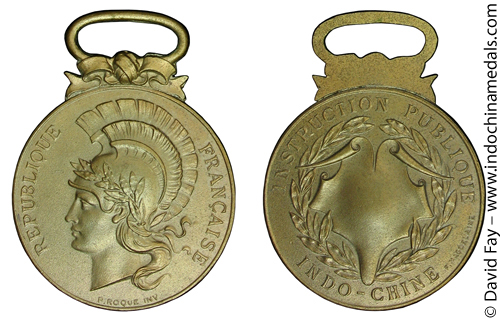 FI04/2 Second Class - Bronze - possibly by Delande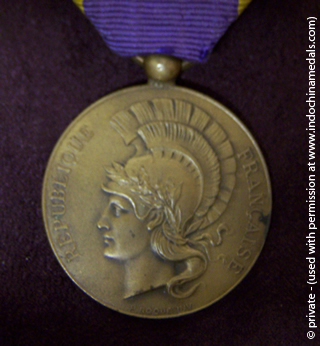 FI04/2 Second Class - Bronze - variation with knob suspension