FI09
INDOCHINA CUSTOMS HONOR MEDAL

Médaille d'Honneur du Personnel des Douanes et Régies de l'Indochine
one class – established June 26, 1900 and November 18, 1900

For:
officers of the Customs Service for merit or 15 years of service, 6 of which in the Indochina Customs Service
Ribbon:
28mm width with horizontal stripes of red, black, green (nearest the badge)
This was limited originally to 125 awards for those on active service and 125 for those no longer on active duty, with 25 each for natives. The total number had risen to 400 by 1933, with monetary awards added. An example of the suspension ribbon on a medal had the top portion 19mm, the black 17mm, and, down to the fold on the horn suspension piece, green 22mm. Another example had them about 25mm each, and still another respectively red 18mm, black 14mm, and green 22mm. The first design comes in two strikings differing in minor details or in jewelers' marks. The medal design was by F. Vernon. An example of the second version in the collection of Dr. P.H. Demoge is inscribed to ANDRE Georges 1950. The 1938 M. Delande catalog offered the Indochina Customs Medal in silver for 40 Francs and in silvered bronze for 15 Francs. The reader is referred to a fine article on this award by J.C. Magny in Symbols et Traditions, No 130, April 1989.
9/A
First Design
Design:
round breast badge, silver, 27mm across, with suspension ribbon
Obverse:
wearing a cap and wreath, the head of a woman symbolic of the Republic facing left, with the inscription around "INDO-CHINE FRANÇAISE";
Reverse:
in the center the inscription "HONNEUR ET MÉRITE" surrounded with a wreath, and above "DOUANES ET RÉGIES";
Suspension:
a coiled hunting horn surmounted with a stylized grenade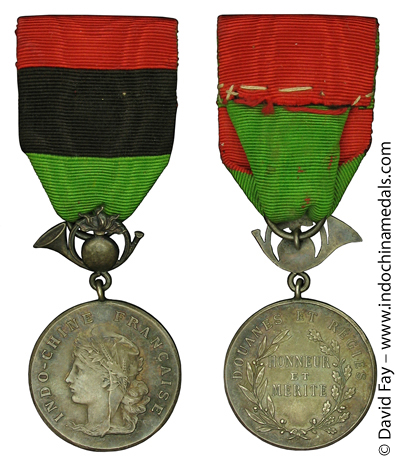 9/A First Design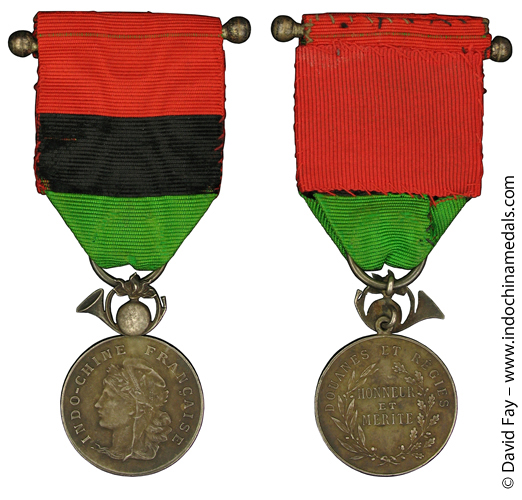 9/A First Design - Variation
9/B
Second Design
Design:
round breast badge, silver, 28mm across, with suspension ribbon
Obverse:
wearing a cap and wreath, the head of woman symbolic of the Republic facing right, with the inscription around "REPUBLIQUE FRANÇAISE INDOCHINE";
Reverse:
in the center the inscription "HONNEUR ET MERITE" surrounded with a wreath, and above "DOUANES FRANÇAISE" with a hunting horn and grenade below on sprigs of laurel leaves;
Suspension:
suspension as above except laurel wreath around horn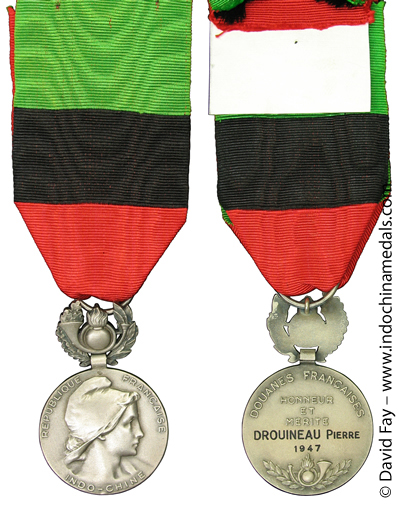 9/B Second Design