FI15
OVERSEAS FRANCE RAILWAYS MEDAL FOR INDOCHINA
Médaille d'Honneur des Chemins de Fer de la France d'Outre-Mer pour l'Indochine
one class – established August 24, 1937 and revised April 21, 1950
For:
twenty years service with the Indochina Railways
Design:
round breast badge, silver, 31½mm across, with suspension ribbon and device
Obverse:
wearing a Liberty cap, the head of a woman (of more "modern" visage) symbolic of the Republic facing left, with the inscription around the upper part REPUBLIQUE FRANCAISE and below INDOCHINE, with also the designer's name MULLER in small letters;
Reverse:
the upper part of a railway wheel, with the inscription towards the middle in larger letters CHEMINS DE FER and in smaller letters TRAVAIL HONNEUR DEVOUEMENT, and below that an empty space as if the side of a piece of track for engraving the name of the recipient, and still below a small piece of tie and gravel
Suspension:
knob
Ribbon:
35mm; blue 5mm, white 5mm, red 5mm, white 5mm, blue 5mm, white 5mm, red 5mm
Device:
large silver locomotive on the suspension ribbon; reportedly earlier suspension ribbons having a woven yellow silk locomotove
Other French colonies, such as Afrique Equitoriale Francaise, had the identical medal except for the name of the colony.
There should also be noted an interesting improvised medal for Indochina Railways. This is a silver medal with the standard Roty design of La Republique with the reverse having engraved inside a wreath of oak and laurel "MINISTÉRE - M. BRACK" and above "INDO CHINE' and below "CHEMINS DE FER". The ribbon is white with edges of red, white, and blue 5mm each.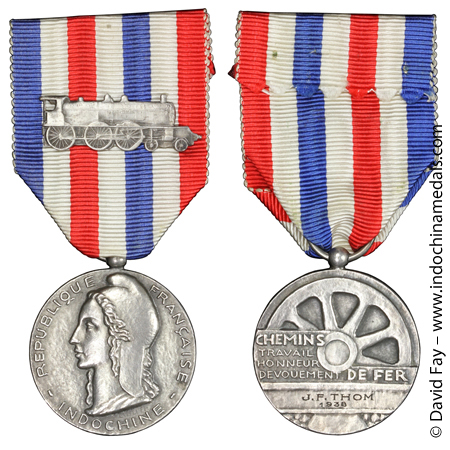 FI15 Overseas France Railways Medal for Indochina