FI05
MEDICAL SERVICES MEDAL
Médaille de l'Assistance Médicale
one class – established September 10, 1931
For:
European and native personnel of the Service de l'Assistance Medicale, or in medical posts of the Government General of Indochina for 15 years service, or for exceptional acts of courage or devotion
Design:
six sided breast badge, silver, 30mm across, with suspension ribbon
Obverse:
head of nurse facing right and two stylized Chinese-style characters, with inscription above "INDOCHINE FRANCAISE";
Reverse:
seven headed cobra (naga) curled around staff with two different foliage on sides, with inscription "MERITE" on left and "DEVOUEMENT" on right, and below "ASSISTANCE MEDICALE";
Suspension:
fixed slot
Ribbon:
yellow 5mm, light blue 5mm, yellow 5mm, light blue 5mm, yellow 5mm, light blue 5mm, yellow 5mm
Only 10 medals could be awarded to Europeans and 150 to natives. A monetary grant was given also to the recipients. The medal was designed by the sculptor Mercier.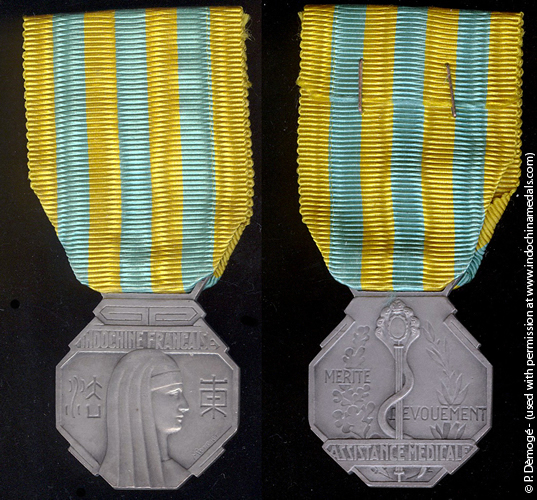 FI05 Medical Services Medal
(collection P. Dèmogé)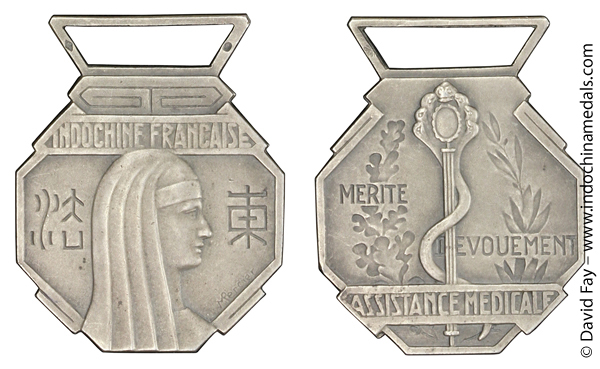 FI05 Medical Services Medal detail


Hallmarks detail