FI11
INDOCHINA POSTS AND TELEGRAPH MEDAL
Médaille d'Honneur des Postes et Télégraphes d'Indochine
two classes – established March 24, 1928
For:
service and merit by employees of the Posts and Telegraph Service
Design:
round breast badge, bronze/silver, 30mm across, with suspension ribbon
Obverse:
wearing a Liberty cap and wreath, the large head of a woman symbolic of the Republic facing left, with the inscription around "INDOCHINE FRANÇAISE";
Reverse:
in the center an open rimmed rectangle for engraving the name of the recipient surmounting a branch of leaves, with an inscription at the top, and below the inscription "DEVOIR ET DÉVOUEMENT";
Ribbon:
30mm width, with six sets of red, white, and blue stripes 1½mm each
The original design of the P.T.T. medal of the Metropole was decreed March 22, 1882, and was executed by P. Tasset following an earlier design by J. Robert. It was awarded also to personnel of the Indochina P.T.T., in Tonkin first in 1885 and in Cochinchina in 1889. The first version had ribbon of seven sets of red, white, and blue stripes. 
| | |
| --- | --- |
| Original Design of the Metropole of 1882 | Tasset Design of the Metropole of 1902 |
This was replaced by the second design of Tasset in 1902. Reportedly, there were also minor varieties, the first having the name of the awardee in the cartouche in relief, the second of 1924 having the name cut into the cartouche, and the third of 1926 having a uniface suspension piece. There was also a gold or gilt class decreed December 1, 1913.
The medal of Indochina was established in 1928, differing from the model of the Metropole only in the inscription "INDOCHINE FRANÇAISE" rather than "REPUBLIC FRANÇAISE". It was also awarded in versions for many other French colonies with the appropriate differing inscriptions.
For the Indochina award, 30 medals in bronze were allocated yearly for Europeans and 70 for natives, and in silver 20 and 30 respectively. The monetary allowance grew from an original 100 Francs to 1000 Francs for the bronze and 2000 Francs for the silver in 1955.
11/A
Principal Version
Design:
Reverse: inscription at the top reads "POSTES ET TELEGRAPHES"
Suspension:
a pair of wings and six lightning bolts, uniface
11/A/1
First Class
For:
twenty years service, acts of courage, or exceptional merit
Design:
awarded in silver
Ribbon:
with rosette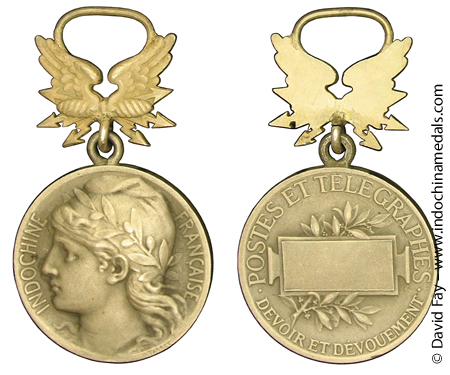 11/A/1 First Class - Silver (manufactured by Delande ?)
11/A/2
Second Class
For:
fifteen years service, merit, or particularly useful work
Design:
awarded in bronze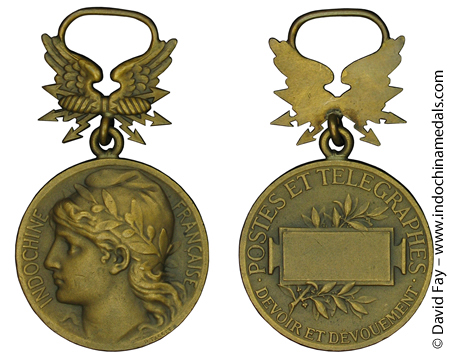 11/A/2 Second Class - Bronze (manufactured by Delande ?)

11/A/2 Second Class - Bronze


11/A/2 Second Class - Bronze





naming detail


naming detail

Par arrêtes du Gouverneur général de l'Indochine du 9 novembre 1933 :

... ... ...

(Journal Official Indo-Chine Française, 1933, p3807-8)


... ... ...

(Journal Official Indo-Chine Française, 1929, p3497-8)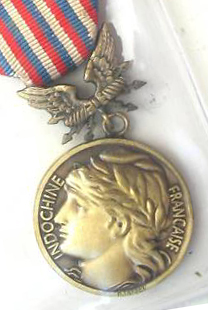 11/A/2 Second Class - Bronze - possible copy ?
(Anybody know the source of this example - where it was made, etc ?)
11/B
Another Version
Design:
Reverse: inscription at the top reads "POSTES ET TELECOMMUNICATIONS"
Suspension:
knob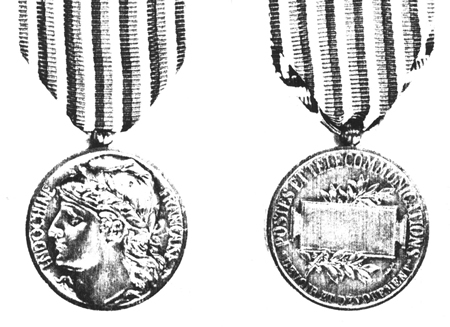 11/B Version
11/B/1
First Class
Design:
awarded in silver
11/B/2
Second Class
Design:
awarded in bronze