INTRODUCTION AND ACKNOWLEDGEMENTS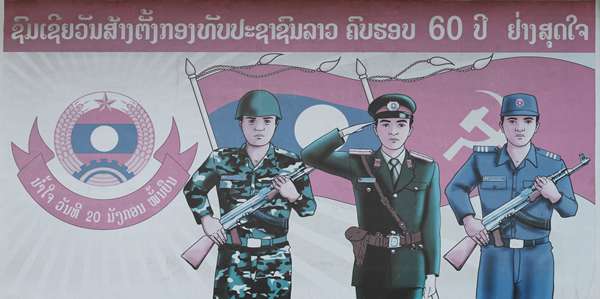 60 Year Commemorative Billboard of the Lao Communist Party
This part of the study of the orders and medals of Indochina lists and comments on the orders, decorations, and medals of the Lao People's Democratic Republic.
The information in this study is based on a variety of information, including some deduced from official photos from the LPDR. Much is based on information from very helpful contacts interested in this obscure subject; We want particularly to thank Mr. Victor Petrakov of Moscow and Mr. Peter Groch of Berlin for their enormous help in this. We also thank others for their assistance, including Mr. Carl A. Anderson, Mr. Ken Conboy, Mrs. Helen Moser, and Mr. George Peterson. The images are of pieces from our own collections and from others who have been so kind as to allow use of images from their collections; also from the kind permission of the Lao PDR Office of the Prime Minister & Institution of National Medal, the Lao PDR Department of Cultural History, and the SRV Army Museum in Hanoi.
This study was initially carried out by John Sylvester Jr. We are thankful that he has let us take up this study from his original work, and continue to expand it with additional information as available.
We request the corrections, additions, and observations of others interested in the subject. Please contact me at rdavemail-medals@yahoo.com.
| | | |
| --- | --- | --- |
| | | David Fay |
| | | rdavemail-medals@yahoo.com |
Note: For some museums with Lao PDR orders and medals - see here.
Can Anyone identify this badge ?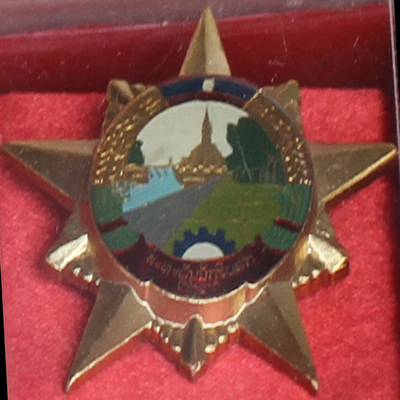 Unknown Badge - 60 years of Lao PDR ?