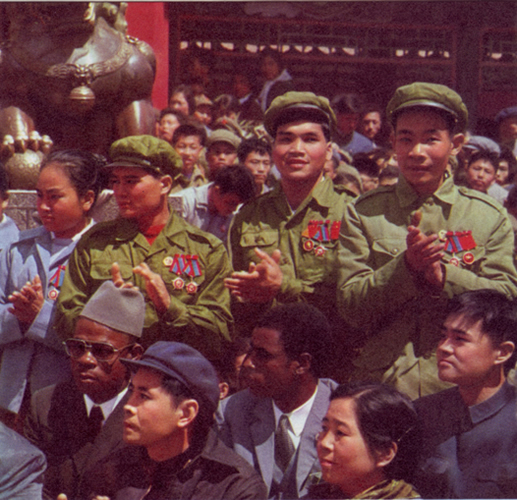 (from China Pictoral magazine)
The Medals:
Following Communist practice, the Pathet Lao and the Lao People's Democratic Republic have a hierarchy of medals and citations. In ceremonies during the war and afterwards, individuals and units have been given awards, emulation banners, and such titles as "Iron Fighter" and "Three Good Company."
The orders and medals follow standard Soviet and Vietnamese styles, with the usual use of the LPDR flag design and symbols from the national coat of arms such as the gold star, rice sheaves, and a portion of a cogwheel, the latter two of course indicating the peasants and workers. Some of the awards, including the senior ones, are worn in Soviet "hero" style from a straight bar suspender. Others are from pentagonal folded ribbons, sometimes with three, two, or one star to indicate respectively First, Second, and Third Class (although this is recently swapped in some new awards). Still others are suspended from small enamel rectangular badges, usually in the colors of the national flag. In the Lao language there is no difference between the words "order" and "medal;" both are Liansay. Badges are Lianka.
Ribbon bars are issued with many of the medals. An interesting feature of the LPDR awards is that a number of the ribbon bars are a different pattern from the suspension ribbons of the awards – having one, two, or three stripes to indicate the class, while the award itself is differentiated just by being bronze, silver, or gold, all with the same ribbon. The awards with monocolor red ribbons have small star devices to differentiate the three classes on both the suspension and service ribbons. Lao officers and officials will sometimes wear ribbon bars on their uniforms, at times made up in the Asian practice with wrapped thread instead of real ribbon. Apparently at times when the actual medals are worn at ceremonies, ribbon bars may also be worn.
A reporter commented that during one of his visits to the LPDR, he attended a ceremony and party commemorating the bestowal of medals on Heroes of Lao Labor. He said one of the Lao officials told him the ceremony was being held then because they had just received a visit from a high East European official who, as his gift to the LPDR, had brought medals that had been manufactured there for Laos. Most of their awards, however, have been manufactured in the Socialist Republic of Vietnam, where they are sometimes seen on the militaria market. China has also manufactured some of the awards. Recently, a new medal factory has been commissioned in the LPDR which has started manufacturing some of the awards also.
Certificates: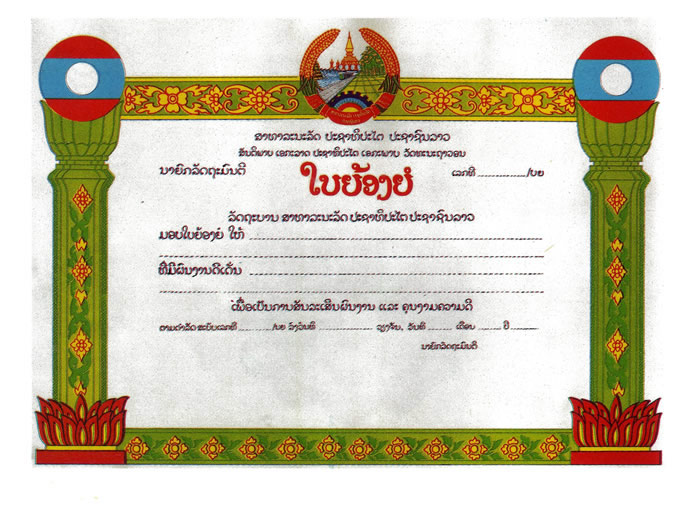 Government's Congratulatory Certificate


(bai yong-yaw rad-tha-bahn)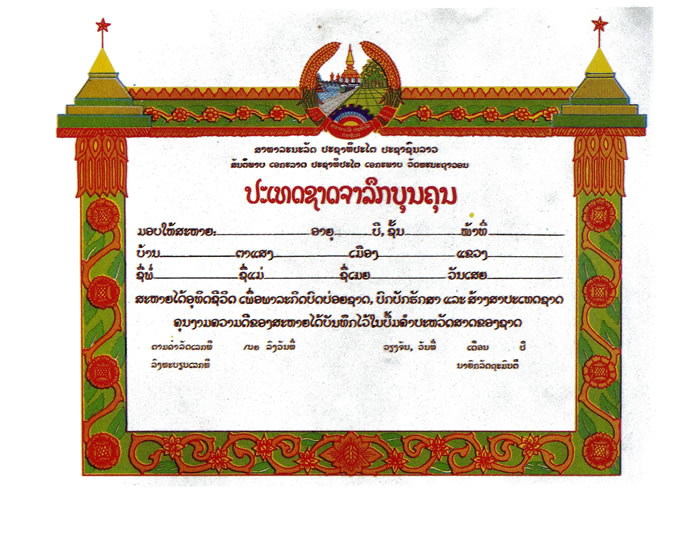 Certificate of National Achievement


(bai pra-ted-saart ja-luek boon-koon)