LP21
BADGE OF DEVELOPMENT (or Medal of Development)
(lian-ga pad-ta-nah)
one class – established in 1995 or 1996 ?
For:
merit in the development of the LPDR
Design:
pointed-round breast badge, gilt with enamels, 36mm across

(as proposed)

, with suspension bar
Obverse:
sharp pointed star with three smaller points between each arm, with central disk of development scenes and half cogwheel below with the name of the medal in Lao inscription (lian-ga pad-ta-nah);
Reverse:
plain
Ribbon:
"hero" style suspension with bar like LPDR flag
This badge and its associated medal were proposed in the speech of the prime minister No. 57/Nor. Yor., on 22 June 1995.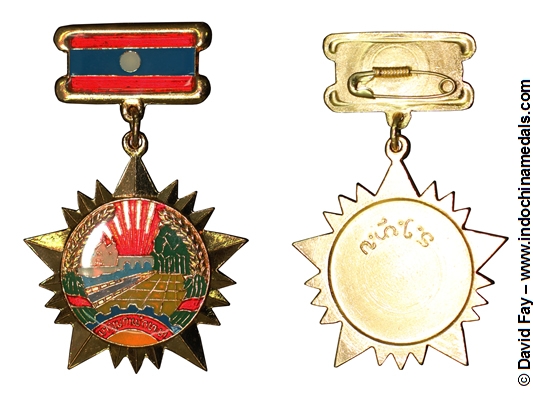 Badge of Development
| | |
| --- | --- |
| LP21A | Early Prototype Design |
| | | | |
| --- | --- | --- | --- |
| | Design: | Obverse: | gold disk with many short points along edge at top half of edge, with central disk of development scenes and half cogwheel below with Lao inscription, and two half rounds on either side of a teadrop-like point on bottom half, with central disk of development scenes and half cogwheel below with Lao inscription; |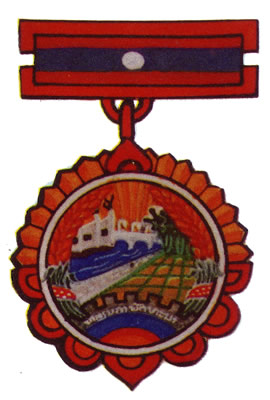 Badge of Development - Early Prototype Design