LP20
MEDAL OF DEVELOPMENT (or Order of Development)
(lian-sai pad-ta-nah)
three classes – established in 1995 or 1996 ?
For:
merit in the development of the LPDR
Design:
pointed-round breast badge, gilt with enamels, 30mm across

(as proposed)

, with suspension ribbon
Obverse:
sharp pointed star with seven smaller points between each arm, with central disk of development scenes and half cogwheel below with the name of the medal in Lao inscription (lian-sai pad-ta-nah);
Reverse:
plain
Ribbon:
in a pentagonal suspension, a blue ribbon 25mm with red edges 7mm, with no change for class;
service bar: as per class (see below)
This medal and its associated badge were proposed in the speech of the prime minister No. 57/Nor. Yor., on 22 June 1995.
It was decided to change the ribbon bar arrangment with this medal from the previous standard - thus 1st class has one stripe, 2nd class has two stripes, 3rd class has three strips, opposite to the original design and other Lao PDR medals.
20/1
First Class
Design:
gold medal and star
Ribbon:
service bar 25mm - blue with one red stripe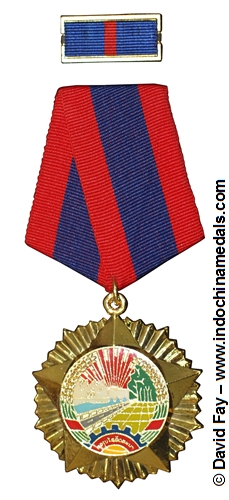 Medal of Development - 1st Class
20/2
Second Class
Design:
gold medal and silver star
Ribbon:
service bar 25mm - blue with two red stripes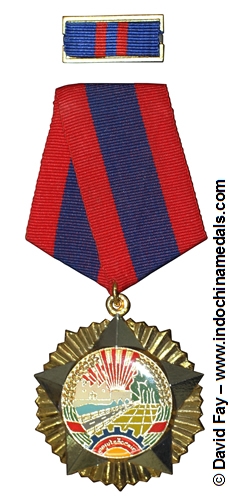 Medal of Development - 2nd Class
20/3
Third Class
Design:
silver medal and gold star
Ribbon:
service bar 25mm - blue with three red stripes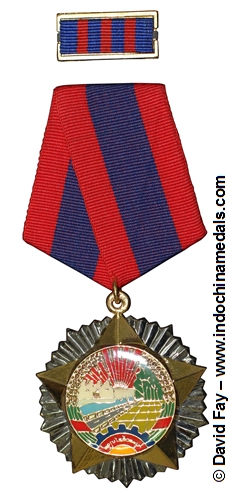 Medal of Development - 3rd Class
| | |
| --- | --- |
| LP20A | Early Prototype Design |
| | | | |
| --- | --- | --- | --- |
| | Design: | Obverse: | sharp pointed star with three smaller points between each arm, with central disk of development scenes and half cogwheel below with Lao inscription; |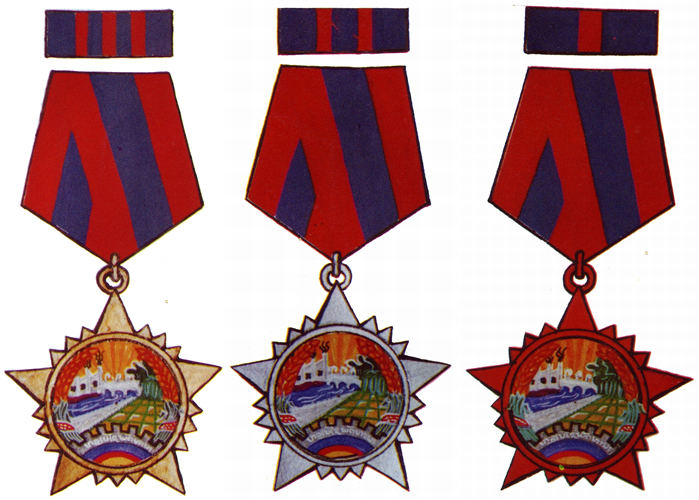 Medal of Development - Early Prototype Design
1st Class / 2nd Class / 3rd Class