LP10
BADGE OF THE LAO PEOPLE'S LIBERATION ARMY (or Medal of the Lao People's Liberation Army)
(lian-ga gong-tapb bah-sah-sohn lao)
single class – established in 19??

(Q: Anyone know when this was established ?)

For:
presumably merit in the Armed Forces
Design:
stary-round breast badge, gilt with enamels, 42mm across, with "hero" style suspension ribbon
Obverse:
sharp pointed gold star, with three blunt points between each arm, and center of red, blue, red with a white circle like the LPDR flag, with half a blue cogwheel below and gold rice sheaves on the sides;
Reverse:
plain with a Lao inscription for the name of the award (lian-ga gong-tapb bah-sah-sohn lao)
Ribbon:
red 22mm, with suspension in "hero" style
This medal is rare.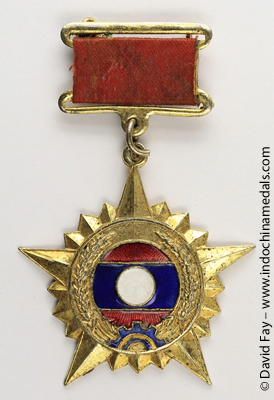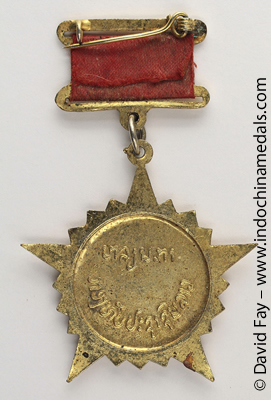 Badge of the Lao People's Liberation Army