LP05
MEDAL OF PHOXAY LANE XANG
(lian pho-sai laan-saang)
single class – established in 1992
For:
foreign leaders for improving the relationship and collaboration with the LPDR
Design:
roundish breast badge, gold with enamels, ? mm across, with "hero" style suspension ribbon
Obverse:
two sets of eight shallow points with shallow points in the angles, the outer set in green enamel with a thin chain-like gold design and the inner set being gold, with a central disk in green with a design of a gold stupa and tree on green enamel background, and below on a red ribbon the name of the award in Lao inscription (lian pho-sai laan-saang);
Reverse:
?
Suspension:
two gold curlicues ending in Lao design flames
Ribbon:
22mm; blue 2.5mm, red 1.5mm, blue 14mm, red 1.5mm, blue 2.5mm
Composition:
gold 40%
silver 60%
Total weight = 3.5 Baht (14 sarung) (53.354 gm)
The medal is very rare.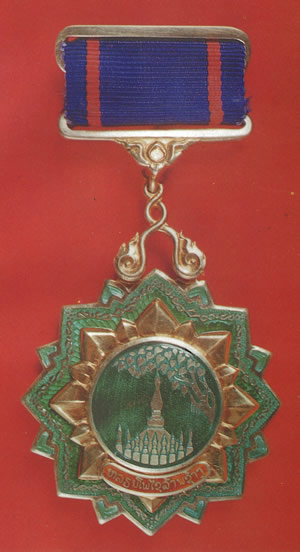 Medal of Phoxay Lane Xang
For some recipients, see here