CM01
ROYAL ORDER OF CAMBODIA
Ordre Royal du Cambodge
(Preah Reacheanachak Kampuchea)
five classes – established February 8, 1864; modified January 12, 1897, September 16, 1905, January 1, 1925, July 13, 1943, and September 9, 1948
For:
eminent services to the Kingdom
Design:
Obverse:
blue enamel oval medallion with the arms of the Kingdom (goblet, horizontal sword, royal crown) in gold, encircled with a red enamel riband, and on an eight pointed star of faceted rays;
Reverse:
plain, except some early examples with the nameplate of the maker;
Suspension:
earliest version without suspension;
later versions with a western style crown;
in the version of the revived Kingdom, a Khmer style crown
Ribbon:
It was awarded with different ribbons by both the King of Cambodia and the President of France.  It was awarded by the President of France under a decree of December 5, 1899 and until August 25, 1948 when it was returned to the exclusive control of the King of Cambodia.
As awarded by the King of Cambodia: 37mm: green 5mm, red 27mm, green 5mm
Earliest ribbons may be slightly larger and with an additional 1mm red edge.
As awarded by the President of France: 37mm: orange yellow 5mm, white 27mm, orange yellow 5mm
The Royal Order was the Kingdom's equivalent to the French Legion of Honor.  French officials and officers received it for a minimum of nine years service in Indochina.  It was made a colonial order of France on May 10, 1896, to be administered by the Grand Chancellery of the Legion of Honor. This was ended on August 25, 1948, when it was returned to the exclusive control of the King of Cambodia.   
As could be well expected with an order that has been awarded extensively for well over a century, there are many versions of the Royal Order of Cambodia, depending on the period and the manufacturer. There are many variations and differences in quality, particularly between those manufactured in Cambodia and those by the many makers in France.  Local made examples of the Royal Order could be quite crude.
The star usually has eight faceted silver sets of rays, but one version seen in the Museum of the Legion of Honor has smooth rays.  An example in a museum in Bangkok for a member of the Thai royal family has a probably local made star in the small "prince" size in a set of other Western stars of the same size.  One early star, reportedly that of the famous Albert Sarraut, is of artisan workmanship, with a somewhat different design of the Royal arms and with white enameled rays.  Possibly stars with gold rays were presented to high recipients like the Emperor of Annam.
Another standard sized star has the red rim around the central design replaced with ruby like stones with a reverse nameplate of "No. 46 KRETLY PALAISE ROYAL PARIS".  A presumably later example with ruby like stones is without the maker nameplate.
The initial versions of the Officer and Knight badges came in smaller sizes with smooth rays, and without the crown suspension. One early example of an Officer badge with a reverse nameplate reading "LEMAITRE 40 Rue Coquillere PARIS Fabricants d'Ordres Francais et Etrangers" has smooth rays and a suspension of a Khmer style Royal crown instead of the Western style crown.  Other early examples are found with faceted rays without the crown suspension.
The French makers sold these badges in regular sizes of 53mm and 45mm (numbers 1 and 2), in a "prince" size, and in several miniature sizes. They also sold them in several levels of quality: M. Delande in 1938 has the officer class in gilt bronze for 60 francs, in gilt silver for 145 francs, and with a real gold design for 210 francs.
Examples of this often awarded order can be commonly found.
It has been revived under the current Kingdom.
1/1
Grand Cross / Grand-Croix / (Moha Serivodho or Mohasereivadh)
Design:
star – as above but without crown suspension, 75mm or 80mm (enamel riband replaced by oval row of rubies or other red jewels in a deluxe example), worn on the left breast;
sash badge – as above, either 58mm or 65mm across, with silver rays, with sash
Ribbon:
sash (cordon) –
As awarded by the King of Cambodia:
           Man's sash 101mm: green 15mm, red 70mm, green 15mm;
           Lady's sash 80mm: green 11mm, red 58mm, green 11mm;
As awarded by the President of France:
           Man's sash 101mm: orange yellow 15mm, white 70mm, orange yellow 15mm,
           Lady's sash 80mm: orange yellow 11mm, white 58mm, orange yellow 11mm;
 service bar - 37mm with rosette and gold wings

1/1 Star / Plaque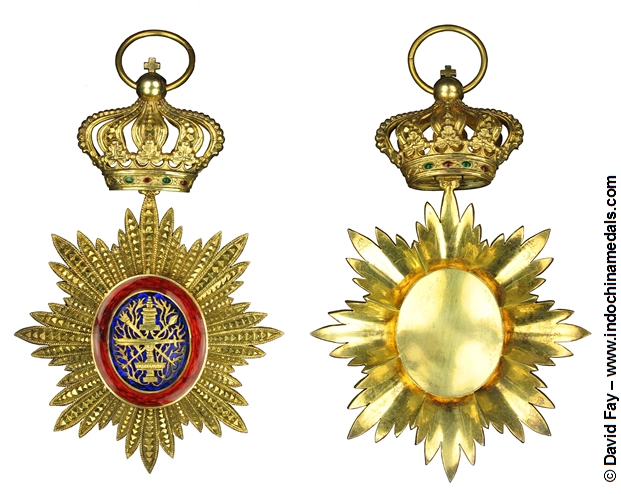 1/1 Badge
1/2
Grand Officer / Grand-Officier / (Vorsenea)
Design:
star – as above, worn on the right breast;
breast badge – as above with gold rays, usually 45mm or 53mm across, with rosette on suspension ribbon (previously badge suspended from a cravat)
Ribbon:
37mm; service bar - with rosette with one gold and one silver wing
1/3
Commander / Commandeur / (Thipden)
Design:
badge – as above with gold rays, usually either 58mm or 65mm across, suspended from a cravat
Ribbon:
37mm; service bar - with rosette and silver wings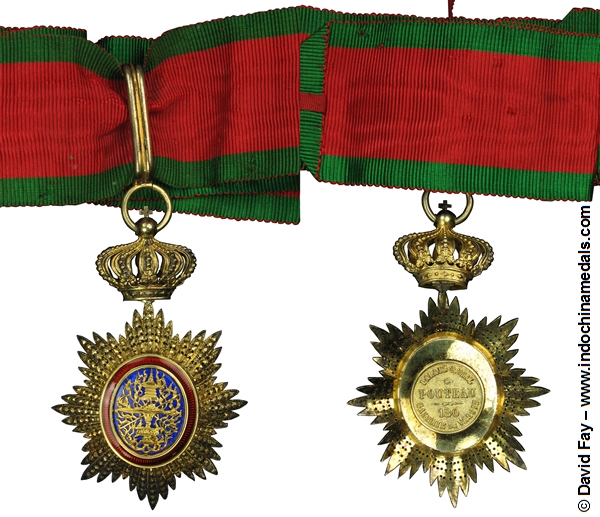 1/3 Commander (Cambodian Ribbon) - made by Pouteau
1/4
Officer / Officier / (Senea)
Design:
breast badge – as above with gold rays, usually 45mm or 53mm across, with rosette on suspension ribbon
Ribbon:
37mm; service bar - with rosette
| | |
| --- | --- |
| 1/4 Officer (Cambodian Ribbon) - made by Kretly | 1/4 Officer (French Ribbon) |
1/5
Knight / Chevalier / (Assarutti)
Design:
breast badge – as above with silver rays, 45mm or 53mm across, with suspension ribbon
Ribbon:
37mm; service bar – without rosette
| | |
| --- | --- |
| 1/5 Chevalier (Cambodian Ribbon) | 1/5 Chevalier (French Ribbon) |
Early Variations:
1/?/A
Star
Type:
the first version of the award (however without suspension or maker nameplate on reverse)
Design:
smooth rays, 59mm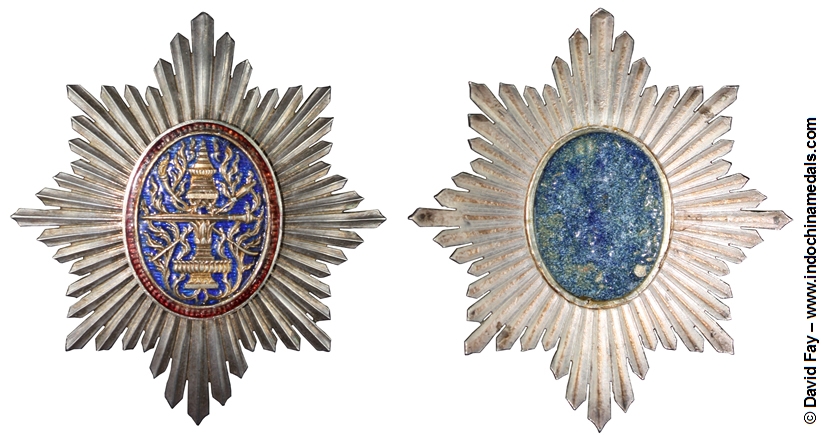 1/1 First Version Star
1/?/B
Star ?
Type:
probably an early version, reputedly that of Albert Sarraut (former Governor-General of French Indochina, from 1912 to 1919), of local workmanship
Design:
Obverse:
blue enamel oval medallion with somewhat different design of arms of Kingdom (e.g. without sword), encircled with gold riband, and on eight pointed star of white enameled rays, with three short white enameled rays between, 43mm across;
Reverse:
plain;
Ribbon:
none - made as small plaque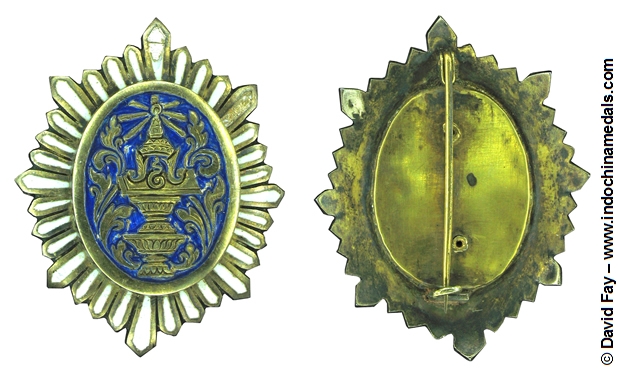 1/1 Early Artisanal Star
1/4/A
Officer / Officier
Type:
the first version of the award
Design:
smooth rays without the crown suspension (without maker nameplate on reverse)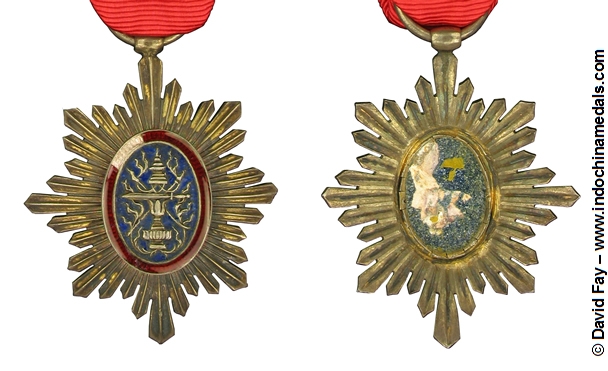 1/4 Officer (in gilt) - first version (ex-Spink Taisei 1991 02 21 Lot 788)
1/4/B
Officer / Officier
Type:
an early version with the maker's mark on the reverse, and with Cambodian-style crown suspension
Design:
Obverse:
smooth rays; suspension of a Cambodian style crown;
Reverse:
metal label reading LEMAITRE 40 Rue Coquillere PARIS Fabricants d'Ordres Francais et Etrangers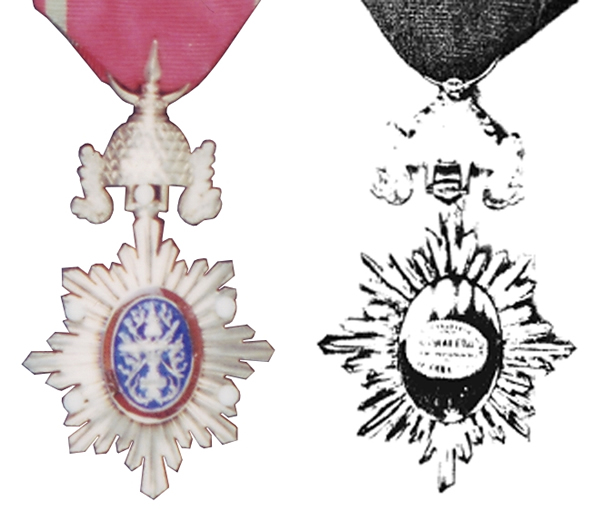 1/4 early version however with Cambodian-style crown suspension
(Perhaps this is a fabrication ? - Has anyone seen another like this ?)
1/4/C
Officer / Officier
Type:
an early version of the award
Design:
similar to later type, except without the crown suspension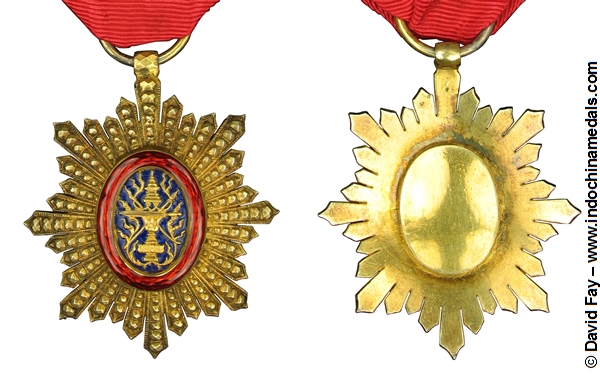 1/4 Officer - early type variation without crown
1/5/?
Knight / Chevalier
Type:
an early version of the award
Design:
as later type, except without the crown suspension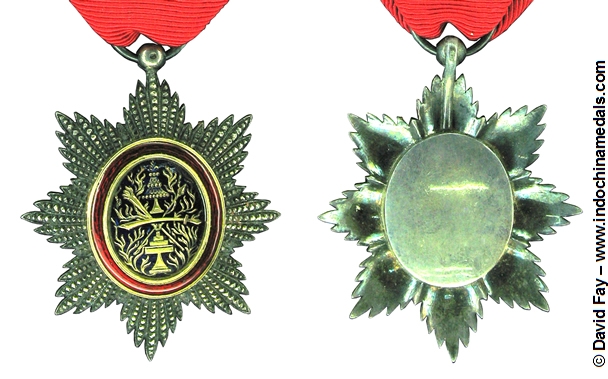 1/5 Knight - early type variation without crown (ex-Maison Platt 1988 06 09 Lot 669)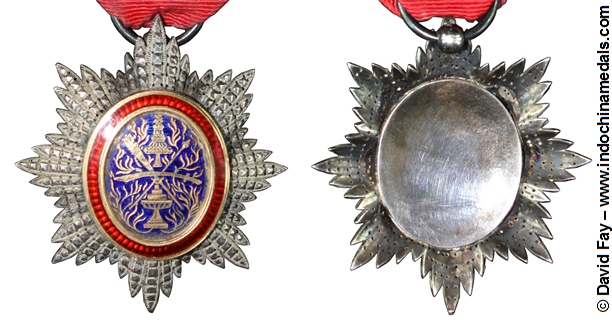 1/5 Knight - early type another variation without crown
Maybe these two are early or intermediate versions ? Or maybe they are fabrications ? (Anyone seen others like these ?)
Current Kingdom Types (re-instituted October 5, 1995)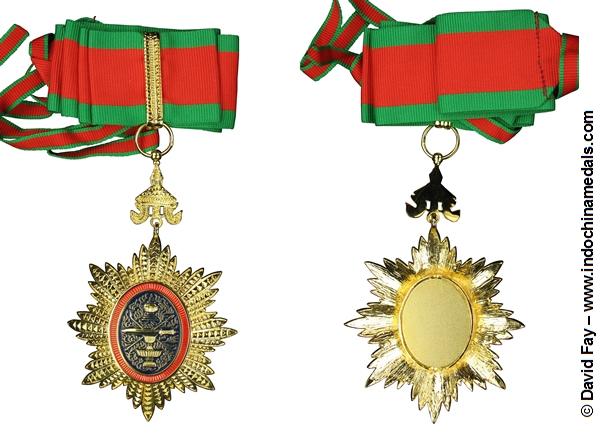 1/3 Commander - Current Type
| | |
| --- | --- |
| 1/4 Officer - Latest Current Type (2010) | 1/5 Knight - Current Type |