CM11
MEDAL OF SISOWATH MONIVONG
Médaille de Sisowathmonivong
three (two?) classes -  established 1927 (crowned 1927 – died 1941)
For:
service to the person of the king
Design:
round breast badge, gold/silver/bronze, 34mm across, with suspension ribbon
Obverse:
in center royal arms, and around edge inscription in Khmer script;
Reverse:
inscription "SISOWATHMONIVONG ROI DU CAMBODGE" within circle, with half suns with rays at top and bottom, and wreath on left of oak and on right of laurel around the edge;
Suspension:
a Khmer style royal crown
Ribbon:
36mm; red 5mm, yellow 6mm, light green 14mm, yellow 6mm, red 5mm
This reign medal, was awarded in gold, silver, and bronze, with possibly some of the bronze given without the suspension and ribbon, and considered thus not to be a class of the medal.
11/1
Gold / Médaille de Vermeil / (Meday Meas)
Ribbon:
maybe also with a rosette
All examples appear made in France.
The medal is occasionally on the market.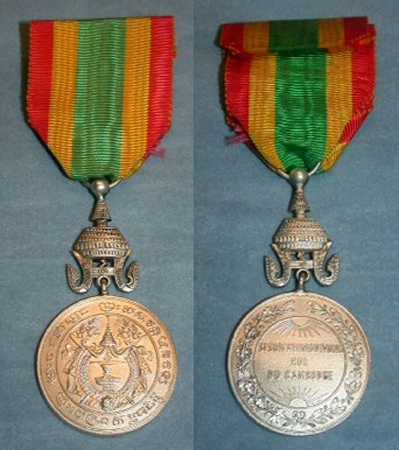 11/1 Gold
| | |
| --- | --- |
| 11/2 | Silver / Médaille d'Argent / (Meday Prak) |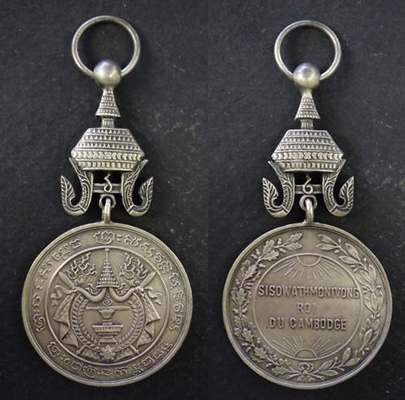 11/2 Silver
| | |
| --- | --- |
| 11/3/A | Bronze / Médaille de Bronze / (Meday Samrit) |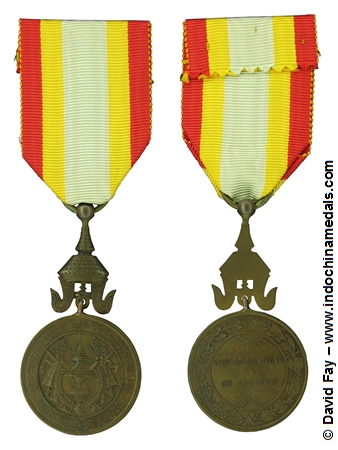 11/3 Bronze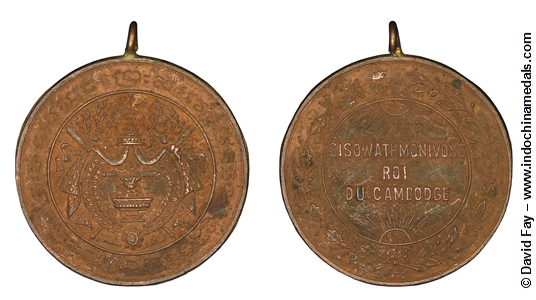 11/3 Bronze (copper ?)

11/3/B
Bronze / Médaille de Bronze / (samrit) - ?
Design:
without crown suspension
Ribbon:
none
Variations:
There are several variations as with the other Reign Medals.
| | |
| --- | --- |
| 1.1 same as FALOT type but without engraver name | 1.2 similar to FALOT type |
| - double sided suspension (broken top ball) | - suspension uniface (as FALOT type) |
| - pendant | - pendant (same as FALOT type) |
| - engraver name FALOT not visible | - engraver name FALOT not visible |
| - fine detail same as FALOT type | - similar toFALOT type with thicker lettering |
| | |
| 1.3 | 1.4 |
| | - double sided suspension with longer "neck" |
| - pendant | - pendant |
| - engraver name FALOT not visible | - engraver name FALOT not visible |
| - different detail | - different detail |
| | |