CM28
COMMEMORATIVE MEDAL FOR THE ROYAL CRUSADE FOR INDEPENDENCE
Medaille Commemorative de la Croisade Royale pour l'Independence
(Meday Preah Reach Bochniykech Teamtear Ekrach)
established November 17 and December 21, 1964
For:
effective participation in the Royal Crusade through the Vital Forces Movement
Design:
square breast badge, gold, 35mm across, with suspension ribbon
Obverse:
in the center a crossed sword and rifle with a brush pen, with ornamental edges and corners, and above a small Royal crown with rays from the peak, with the fixed protruding top constituting a small figure of the seated Buddha with rays from the peak;
Reverse:
a Khmer inscription "A symbol in commemoration of National Independence 1953" with a stylized wreath design around the edge; another variation is plain
Ribbon:
37mm; twenty-three equal stripes, the three at the edge being blue, red, blue, and then nine bright green and eight red, each stripe being 1.6mm
Device:
on the suspension ribbon and service bar, awarded depending on the class, with:
- diamond palm
- emerald palm
- gold palm
- gold star
- silver star
- bronze star
The Vital Forces Movement, "Movement Forces Vives du Cambodge", was Sihanouk's successful effort to persuade Cambodian officers to defect from the French Command and join his movement for full independence from France. The medal had exceptional rank in the order of precedence. A report states that on Nov. 29, 1969, Lt. Gen. Nhiek Tioulang presented 53 soldiers in Kampot with this medal.
This medal is very rare.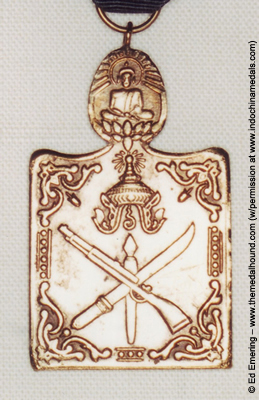 CM28 Commemorative Medal for the Royal Crusade for Independence (Sylvester coll)
| | |
| --- | --- |
| CM28 Medal with Plain Reverse | CM28 Medal with Khmer Inscription on Reverse |
| Maker Stamp on Reverse | Inscription on Reverse |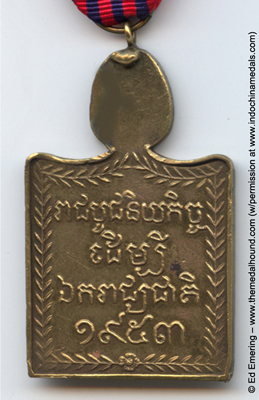 CM28 Reverse