CM13
MEDAL OF NORODOM SURAMARIT
Médaille de Norodom Suramarit
three classes - April 12, 1955 (crowned March 3,1955 – died April 3, 1960)
For:
service to the person of the king
Design:
round breast badge, gold/silver/bronze, 34mm across, with suspension ribbon
Obverse:
in center royal arms, and around edge inscription in Khmer script;
Reverse:
inscription "NORODOM SURAMARIT ROI DU CAMBODGE" within circle, with half suns with rays at top and bottom, and wreath on left of oak and on right of laurel around the edge;
Suspension:
a Khmer style royal crown
Ribbon:
36mm; The ribbon for this award is different by class.
There appear to both French and Cambodian manufactured examples.
The medal is not infrequently on the market.
13/1
Gold / Médaille de Vermeil / (Meday Meas)
Ribbon:
36mm; red 5mm, blue 8mm, red 10mm, blue 8mm, red 5mm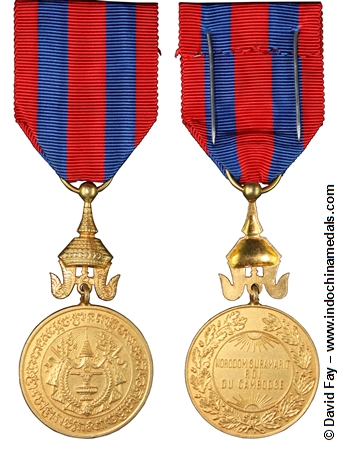 13/1 Gold (Bronze Gilt / Bronze Doré)
13/2
Silver / Médaille d'Argent / (Meday Prak)
Ribbon:
36mm; blue 12mm, red 12mm, blue 12mm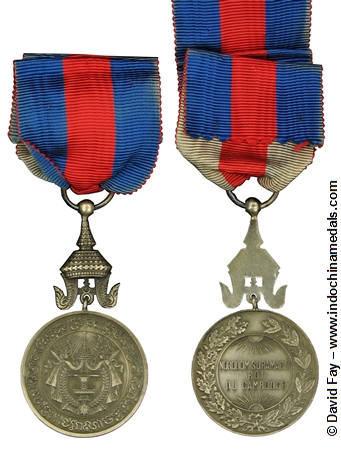 13/2 Silver
13/3
Bronze / Médaille de Bronze / (Meday Samrit)
Ribbon:
36mm; blue 18mm, red 18mm

13/3 Bronze
Variations:
At least four variations are discernable. One with the engraver name FALOT. Another, perhaps the same die without the engraver name. And two other cruder types. There is additional variation with the royal crown suspension.

1.1 with engraver name FALOT

1.2 same as FALOT type but without engraver name
- suspension uniface

- suspension uniface (as FALOT type)

- pendant

- pendant (same as FALOT type)

- engraver name FALOT (weak visibility)

- engraver name FALOT not visible

- fine detail

- fine detail same as FALOT type



- hallmark
Arthus Bertrand maker mark with "BRONZE" mark


1.3 same as FALOT type but without engraver name


- suspension uniface (smooth convex reverse)



- pendant



- fine detail same as FALOT type



- hallmark
"BRONZE" mark and Arthus Bertrand maker mark
(Bronze Gilt / Bronze Doré)




1.4 without engraver name FALOT and cruder

1.5 without engraver name FALOT and cruder another variation
- suspension uniface (similar to FALOT type but some variation)

- suspension uniface (convex reverse with some detail)

- pendant

- pendant

- cruder detail

- cruder detail another variation

Other suspension crown examples:
from pendant type with engraver name FALOT
from unclear pendant type
- double-sided suspension (not uniface)

- suspension uniface variation
(covex reverse)

Example with box (as FALOT type without name):