CM08
MEDAL OF THE CROWN
Medaille de la Couronne
three classes ? - established September 9, 1948
For:
services rendered to the Crown
Design:
squarish breast badge, gold(/silver/bronze), 40mm across, with suspension ribbon
Obverse:
The Royal arms of goblet and sword, crossed leaves, cape with Royal crown, with rays from the peak, and as supporters, the elephant headed lion on the left and the lion on the right, both gripping the Royal umbrellas;
Reverse:
plain
Ribbon:
36mm; from edge to edge six sets of blue 1mm, yellow 1mm, blue 1mm, interspersed with violet 3mm
This medal was awarded exclusively by the King.
According to the official decrees, this was awarded in one class in gold, but silver and bronze versions examples are equally prevalent, indicating that officially or in practice it was extended to three classes.
They appear French made, and no die varieties have been noted.
The medals not infrequently appear on the market.
| | |
| --- | --- |
| 8/1 | Gold / Médaille de Vermeil / (Meday Meas) |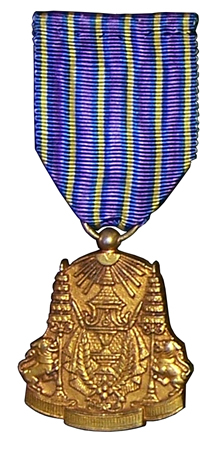 CM08 Gold
| | |
| --- | --- |
| 8/2 | Silver / Médaille d'Argent / (Meday Prak) |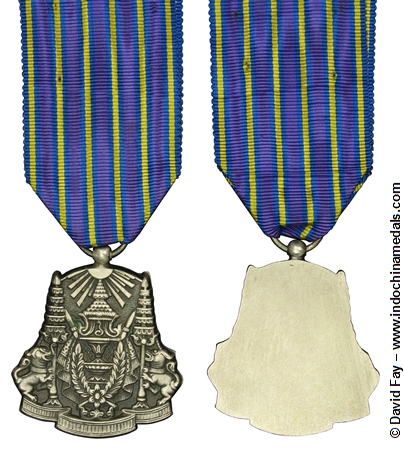 CM08 Silver
| | |
| --- | --- |
| 8/3 | Bronze / Médaille de Bronze / (Meday Samrit) |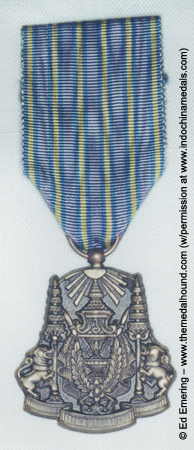 CM08 Bronze