CM20
KHEMARA KELARITH SPORTS MEDAL
Medaille du Merite Sportif Khemara Kelarith
(Meday Khemara Kelarith)
three classes - probably established September 9, 1948
For:
services in the field of physical education, sports, and youth organizations
Design:
irregular breast badge with top five sides, gold/silver/bronze, 39mm across, with suspension ribbon
Obverse:
three faced head of Prohm on a stepped pedestal, with two Olympic rings appearing on either side, lined design around top edges and curlicues and Naga head like Khmer design at bottom;
Reverse:
plain
Ribbon:
35mm; blue 5mm, red 25mm, blue 5mm
Device:
Stars of the respective metal are born on the service ribbon and supposedly on the suspension ribbon, although usually absent there.
Awards were proposed by the Ministries of Education and National Defense.
The medal is not uncommon. 
It has been revived by the current Kingdom.
20/1
Gold / Médaille de Vermeil / (Meday Meas)
Device:
on suspension ribbon and service bar a gold star

CM20 Khemara Kelarith Sports Medal - Gold (gilt)
20/2
Silver / Médaille d'Argent / (Meday Prak)
Device:
on suspension ribbon and service bar a silver star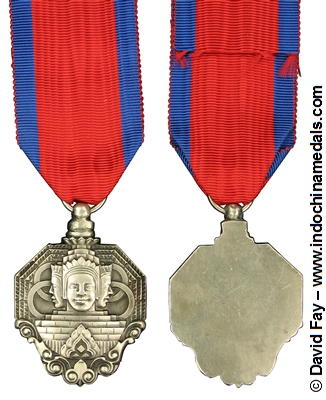 CM20 Khemara Kelarith Sports Medal - Silver
20/3
Bronze / Médaille de Bronze / (Meday Samrit)
Device:
on suspension ribbon and service bar a bronze star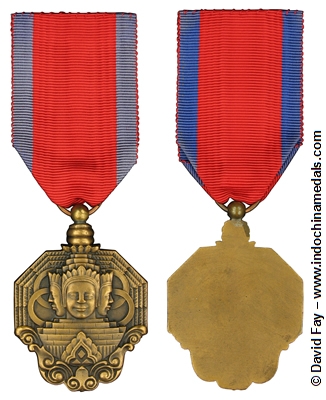 CM20 Khemara Kelarith Sports Medal - Bronze


Maker Stamp on Suspension Ring - Adrien Chobillon