CM10
MEDAL OF SISOWATH I
Médaille de Sisowath 1er
three (two?) classes - established January 1, 1925 (crowned 1904 – died 1927)
For:
service to the person of the king
Design:
round breast badge, gold/silver/bronze, 32mm across, with suspension ribbon
Obverse:
in center royal arms, and around edge inscription in Khmer script;
Reverse:
inscription "SISOWATH 1ER ROI DU CAMBODGE" within circle, with half suns with rays at top and bottom, and wreath on left of oak and on right of laurel around the edge;
Suspension:
a Khmer style royal crown
Ribbon:
36mm; violet 12mm, yellow 12mm, red 12mm
This second of the reign medals, was made with more sensitivity to Cambodian tradition with the traditional Khmer crown as the suspension to the medal and Khmer script on the obverse. It was awarded in gold, silver, and bronze, with apparently some of the bronze medals being given without a suspension and ribbon and considered thus not to be a class of the medal.
All examples appear made in France. Slight die difference exist.
The medal is occasionally on the market.
10/1
Gold / Médaille de Vermeil / (Meday Meas)
Ribbon:
with rosette reportedly
| | |
| --- | --- |
| 10/1 Gold (gilt) | 10/1 Gold (light gilding) |
| | |
| --- | --- |
| with Case | Case |
| | |
| --- | --- |
| 10/2 | Silver / Médaille d'Argent / (Meday Prak) |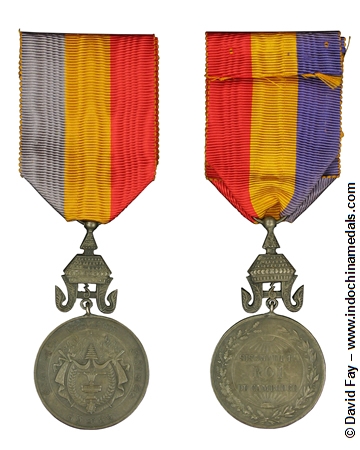 10/2 Silver
| | |
| --- | --- |
| 10/3/A | Bronze / Médaille de Bronze / (Meday Samrit) |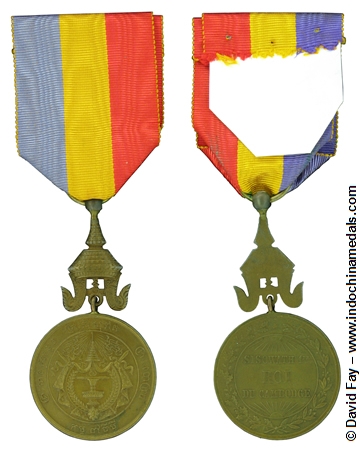 10/3 Bronze

10/3 Bronze (copper ?)

10/3/B
Bronze / Médaille de Bronze / (samrit)
Design:
without crown suspension
Ribbon:
none
Medals without Suspension:
LeCompte & Gadoury identify gold, silver, and bronze versions without suspension: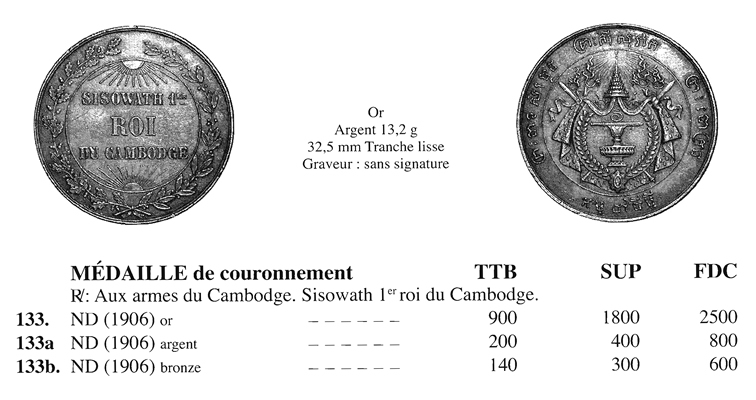 from LeCompte & Gadoury (Monnaies et Jetons des Colonies Francaises) 2nd ed, 2007, p216
available at http://www.gadoury.com
Variations:
At least three variations are discernable. One with the engraver name FALOT. One without engraver name but with identical medal otherwise, and a uniface suspension. A third type has many minor variations from the other two in the lettering, lettering alighnment, and is sometimes hallmarked..
| | |
| --- | --- |
| 1.1 with engraver name FALOT | 1.2 medal same as FALOT type without name, and with uniface suspension |
| 1.3 without engraver name FALOT and sometimes hallmarks | |
Some Variations in the Engraver Name Space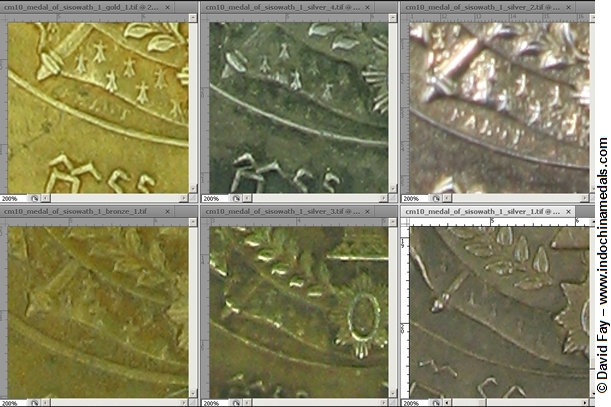 Variation of 20E BATAILLON INDOCHINOIS 1916 - 1917
There is an interesting bronze medal without a suspension and ribbon which is exactly like this reign medal of Sisowath I except for the reverse inscription which reads "20E BATAILLON INDOCHINOIS 1916 - 1917". This apparently memorializes the Cambodian battalion which served in France during World War I, and was possibly for presentation to the returned soldiers.
LeCompte & Gadoury report a silver version: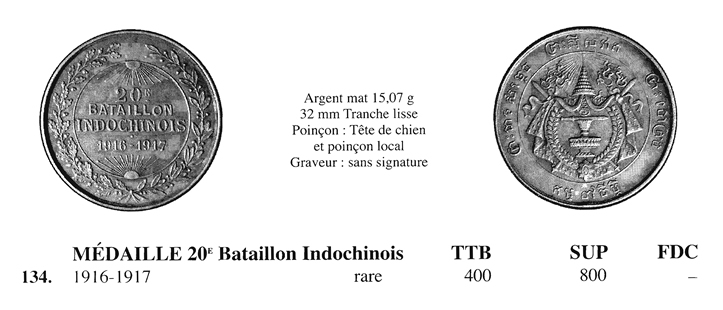 from LeCompte & Gadoury (Monnaies et Jetons des Colonies Francaises) 2nd ed, 2007, p216
available at http://www.gadoury.com