CM19
LABOR MEDAL
Medaille du Travail
(Meday Chomneang?)
three classes - established September 9, 1948
For:
merit required by professional integrity and quality of work, and services rendered in the organization of labor
Design:
oval skeletal breast badge, gold/silver/bronze, 40mm across, with suspension ribbon
Obverse:
statue of Visnoukan seated on a pedestal holding in the upper two of his four arms sickles, and in the bottom two a hammer on the right, and an axe on the left, surrounded with a wreath, and all incised through in the open parts of the design;
Reverse:
plain
Ribbon:
original ribbon: 35mm; blue 3mm, yellow 2½mm, blue 2½mm, red 8mm, blue 3mm, red 8mm, blue 2½mm, yellow 2½mm, blue 3mm
current ribbon: yellow with one wider blue and one thin inner stripe near each edge, and a mid sized red stripe in the center, with all the classes having a rosette on the ribbon
There are two original die varieties with minor differences. It was manufactured by Chobillion in Paris, and also perhaps in Cambodia.
The medal is not uncommon on the market.
It has been revived by the current Kingdom.
| | |
| --- | --- |
| 19/1 | Gold / Médaille de Vermeil / (Meday Meas) |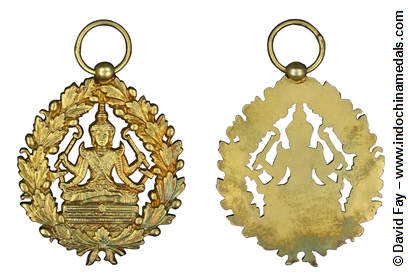 CM19 Labor Medal - Gold (gilt)
| | |
| --- | --- |
| 19/2 | Silver / Médaille d'Argent / (Meday Prak) |
| | |
| --- | --- |
| CM19 Labor Medal - Silver | CM19 Labor Medal - Silver (silvered) |
| | |
| --- | --- |
| 19/3 | Bronze / Médaille de Bronze / (Meday Samrit) |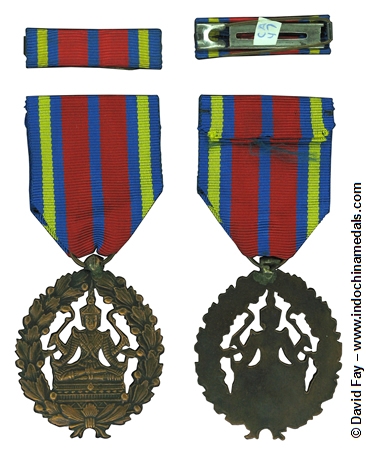 CM19 Labor Medal - Bronze
Current Kingdom Types (re-instituted October 5, 1995)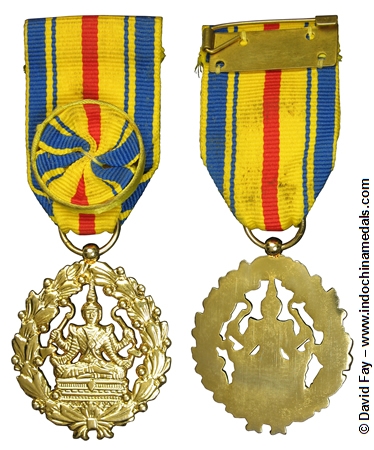 CM19 Labor Medal - Gold - Current Type
| | |
| --- | --- |
| CM19 Labor Medal - Silver - Current Type | CM19 Labor Medal - Bronze - Current Type |