CM09
MEDAL OF NORODOM I
Médaille de Norodom Ier
two (three?) classes - established ? (crowned June 3, 1864 – died April 24, 1904)
For:
service to the person of the king
Design:
round breast badge, gold/silver(/bronze?), 34mm across, with suspension ribbon
Obverse:
in center royal arms, and around the edge inscription in Western script "SOMDACH PREAH NORODOM PREACH CHAU CRUNG * CAMPUCHEA *";
Reverse:
inscription "NORODOM 1ER ROI DU CAMBODGE", with half suns with rays at top and bottom, and wreath on left of oak and on right of laurel all around edge;
Suspension:
a western style royal crown
Ribbon:
36mm; azure 12mm, yellow 12mm, red 12mm
As with some other medals in Indochina, recipients would sometimes mount the ribbon on the medal in reverse pattern.
The Medals of the Reign (Médaille du Règne / Meday Rochkal), were instituted only for the period of the individual monarch, and lapsed thus at the end of his reign. This first Reign medal, of Norodom I, has both a western crown and western script, along with a suspension from a Western style crown. This was changed with the subsequent Reign medals to the traditional Khmer crown as the suspension to the medal, and to Khmer script on the obverse. The various reign medals otherwise closely resemble each other.
The Medal of Norodom I was awarded in gold and silver. A bronze medal was also apparently awarded without a suspension and ribbon to lower ranking people who would not be expected to wear medals. Apparently some bronze medals, however, were worn, and were fitted either for bestowal or by the recipient with the suspension and ribbon.
They all appear French made, the gold class in gilt reportedly being manufactured by La Monnaie de Paris.
The medal is infrequently on the market.
9/1
Gold / Médaille de Vermeil / (Meday Meas)
Ribbon:
sometimes with rosette on both suspension ribbon and service bar
| | |
| --- | --- |
| 9/1 Gold (gilt) | 9/1 Gold (light gilding) with rossette on ribbon |
Miniatures:
| | |
| --- | --- |
| 9/1 Gold (gilt) (11mm) | 9/1 Gold (gilt) (11mm) |
| | |
| --- | --- |
| 9/2 | Silver / Médaille d'Argent / (Meday Prak) |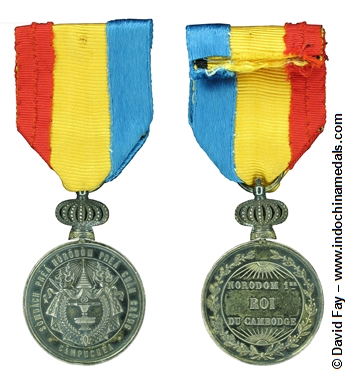 9/2 Silver (with constructed ribbon)
9/3/A
Bronze / Médaille de Bronze / (Meday Samrit)
? (Does anyone have any, or have seen any, examples of a bronze version with suspensions ribbon ?)
9/3/B
Bronze / Médaille de Bronze / (Meday Samrit)
Design:
without crown suspension
Ribbon:
none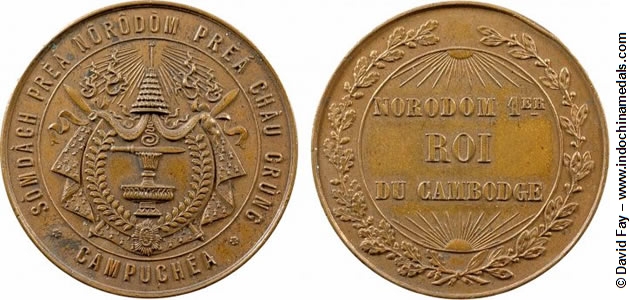 9/3/B Bronze Medal - type without suspension
(i-Numis Auction 2010 05 20 Lot 382)
Medals without Suspension:
LeCompte & Gadoury identify gold, silver, and bronze versions without suspension: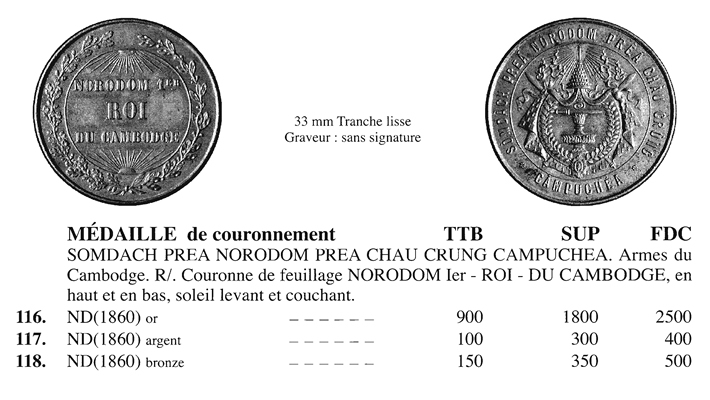 from LeCompte & Gadoury (Monnaies et Jetons des Colonies Francaises) 2nd ed, 2007, p213
available at http://www.gadoury.com
Variations:
At least two variations are discernable. One with the engraver name FALOT and the other without. There are other minor variations between the two in the thickness of the lettering, knob size, and in the number of berries on the reverse.
1.1 with engraver name FALOT

(berries in pairs on reverse)
1.2 without engraver name FALOT

(single berries on reverse)
engraver name FALOT