CM06A
NATIONAL MERIT MEDAL
Médaille du Mérite National
one class - established September 9, 1948
For:
exceptional services to the Kingdom
Design:
round breast badge, gold with enamels, with suspension ribbon
Obverse:
star of eight rays of white enamel surmounting a gold round wreath, and in the center the Royal arms in gold on a red enamel disk, surrounded with a blue enamel riband with the inscription in Cambodian "Cheatopaker Kampuchea";
Reverse:
plain
Ribbon:
dark blue
The recipients were chosen by the King or Chief of State upon the vote of a Commission of National Merit, and only five persons could hold this award at one time. The award was considered to be an Exceptional Class with high precedence.
This medal is very rare.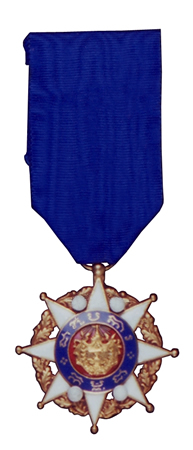 CM06A National Merit Medal
It is revived by the new Kingdom.
CM06B
MEDAL OF NATIONAL MERIT
Médaille du Mérite National
one class - established 1995
The National Merit Medal was revived by the new Kingdom as the Medal of National Merit.  It is of a completely different design from the earlier medal. It is the highest award of the revived Kingdom, and has reportedly only been awarded once, to Prime Minister Hun Sen.
It is suspended from a collar of two different Khmer design gold pieces linked together. The badge resembles the star of the Royal Order of Cambodia, gold with eight faceted three piece pointed rays, with five joined short smooth pointed rays between. The central disk has enclosed in a gold wreath and inscribed rim the design of the Kingdom's flag, horizontal blue, red, and blue with an image of Angkor Wat in the center. It is suspended from the chain by the usual Khmer crown.
It is presumably very rare.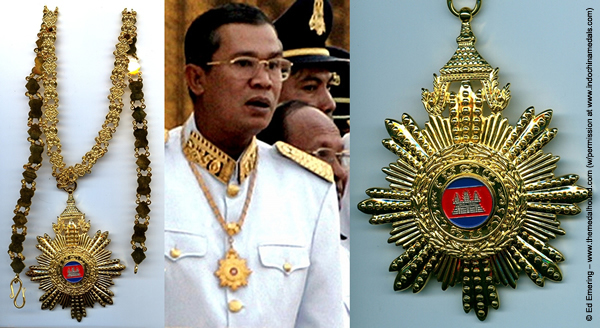 CM06B Medal of National Merit