CM24
ROYAL ORDER OF LABOR MERIT
Ordre Royal du Merite Ouvrier
(Meday Kunbenach Khang Chomneang)
three classes – reportedly established February 15, 1966
For:
factory managers, public works and railroad supervisors, and individual output, personal initiative, or personal example in industrial production
Design:
Obverse:
in the shape of a gold cogwheel, with inside that a green wreath, and inside that a round light blue disk with a stylized crossed hammers above and silver anvil below, with the suspension a gold Khmer crown;
Reverse:
plain
Ribbon:
37mm; light blue 5mm, white 2½mm, light blue 8½mm, yellow 5mm, light blue 8½mm, white 2½mm, light blue 5mm
This order was illustrated in an article in the Cambodian magazine Kambuja in February 1966.  It is not known, however, whether any were ever actually awarded. 
Examples of this order suddenly showed up on the market, probably being sold from a cache held by the original French manufacturer.
24/1
Commander / Commandeur / (Thipden)
Design:
badge – as above, round, 44mm across, suspended from a cravat
Ribbon:
37mm; service bar - with rosette and silver wings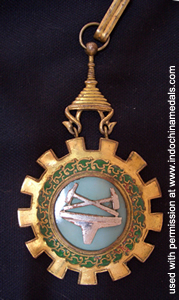 24/1 Commander
24/2
Officer / Officier / (Senea)
Design:
breast badge – as above, round, 44mm across, with rosette on suspension ribbon
Ribbon:
37mm; service bar - with rosette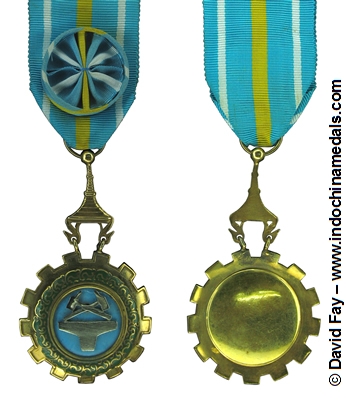 24/2 Officer
24/3
Knight / Chevalier / (Assarutti)
Design:
breast badge – as above, round, 44mm across, with suspension ribbon
Ribbon:
37mm; service bar – without rosette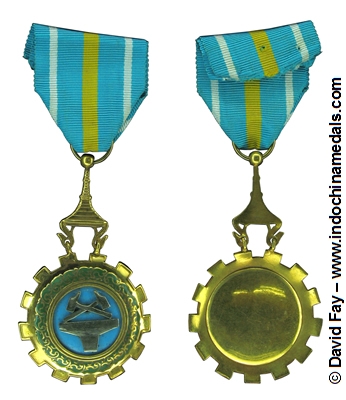 24/3 Knight