CM03
ORDER OF THE REPUBLIC
Ordre de la République
five classes and collar - 197?
For:
eminent services to the Republic
Design:
?
Ribbon:
green 5mm, red 27mm, green 5mm
With the founding of the Khmer Republic after Sihanouk's ouster in 1970, the Royal Order became obsolete, and reportedly was replaced by the Order of the Republic. For instance, on June 9, 1973, Information Minister Sum Chum is recorded as having presented the Chevalier de l'Ordre de la République to three representatives of French Radio and Television who had assisted the Cambodian radio network. Information on this award, however, is scanty, and no examples have been seen.
A photograph in Réalités Cambodgiennes of August 31, 1974, shows Marshal Lon Nol in dress uniform wearing what presumably are the collar and star of this order as he reviewed a military parade in Phnom Penh. In the fuzzy photograph the badge of the collar appears a faceted five pointed star hung from a chain of two alternating elaborate designs, and the star to be of nine faceted points of rays.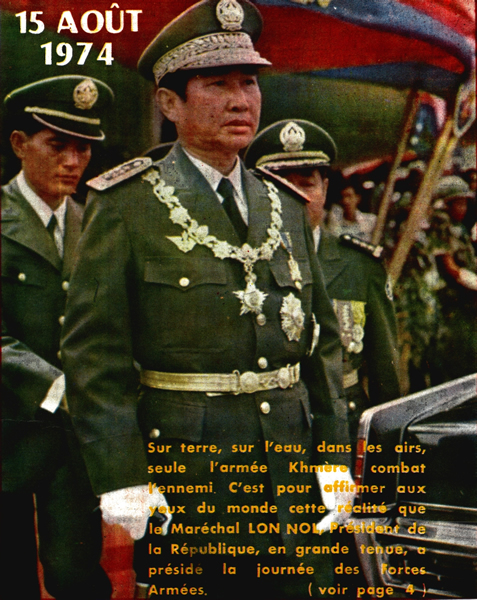 The other five classes of the order may have been similar in design and of standard types, but were probably just the Royal Order with a different name applied.
3/0
Collar / Grand Collier de l'Ordre
For:
chiefs of state
Design:
badge of five pointed star composed of rays going out from a central planchet of unknown design, with a chain of two differing elaborate designs alternating with each other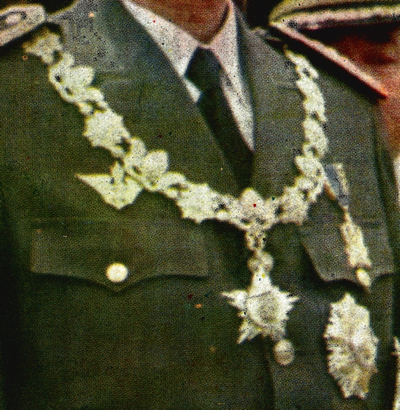 3/1
Grand Cross / Grand-Croix / (Moha Serivodho or Mohasereivadh)
Design:
star – large plaque of nine points of rays emanating from a central planchet of unknown design;
sash badge – ?, with sash;
Ribbon:
sash 100mm - green 15mm, red 70mm, green 15mm service bar - with rosette and gold wings
3/2
Grand Officer / Grand-Officier / (Vorsenea)
Design:
star – ?;
breast badge – ?, with rosette on suspension ribbon
Ribbon:
?; service bar - with rosette with one gold and one silver wing
3/3
Commander / Commandeur / (Thipden)
Design:
badge – ?, suspended from a cravat
Ribbon:
?; service bar - with rosette and silver wings
3/4
Officer / Officier / (Senea)
Design:
breast badge – ?, with rosette on suspension ribbon
Ribbon:
?; service bar - with rosette
3/5
Knight / Chevalier / (Assarutti)
Design:
breast badge – ?, with suspension ribbon
Ribbon:
?; service bar – without rosette